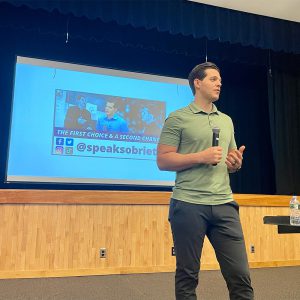 When Stephen Hill, the founder of Speak Sobriety talks with students and families about his battle with addiction, he doesn't call himself recovered, rather, in recovery. Hill spent more than 12 years as an addict, beginning at age 13. He became sober just before his 25th birthday.
"I went from getting kicked off athletic teams, to barely graduating high school, to eventually misdemeanor and felony arrests," said Hill. "It all started at age 13 and then I woke up one day at age 24 in a courtroom, pleading guilty to a felony."
Now a criminal defense attorney, Hill also travels around the country with his message of substance use prevention and mental health awareness. He spent two hours speaking to Schuylerville High School ninth graders about his road to recovery, which he says is always an ongoing process. His presentation is called First Choice, Second Chance and is strategically named.
"My primary goal is definitely prevention," said Hill. "I want people to see the choices you make today can and will affect you and those around you for the rest of your life. When I was a freshman in high school, I looked up to a lot of the juniors and seniors and drug and alcohol use was normalized to me. It didn't look like it was a big problem. For some of them, it didn't become a big problem, but unfortunately for me, it did."
Hill says heroin is the most powerful drug he ever took. 
"It's like you're starving all the time and you need to eat," said Hill. "Your drugs are your food, but it's never enough."
Hill says while the goal is to get every student to never reach that point, he knows that's not realistic. That's where the "second chance" part of his presentation comes into play.
"The second chance piece is the resilience of it," said Hill. "I know there are kids I talk to who have already made it past the prevention stage and have tried nicotine, marijuana, alcohol, or some, even worse than that. I want to show people that you can come out of the vicious cycle if you're willing to ask for help."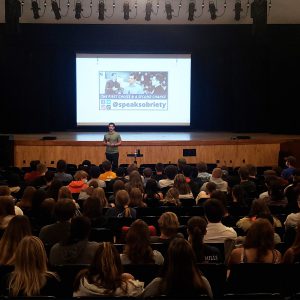 Schuylerville students were engaged during the entire presentation, which began with a video testimony from Hill's family. He also conducts parent programs aimed at helping adults be aware and recognize that no child is immune from addiction.
"The earlier you start using, the more likely you are that you'll become addicted," said Hill. "I'm trying to get to people before they even go down that path. The transition from middle school to high school is where it started for me. Unfortunately, you're starting to see that transition happen even earlier."
At age 25, Hill began his work to overcome his severe substance use disorder. By 33, his life completely turned around. Not only does he work in the field of addiction prevention, treatment and recovery, he started his own speaking and coaching company, received his bachelor's degree with honors from John Jay College of Criminal Justice, earned his Juris Doctor from Brooklyn Law School, passed the New York bar exam, and published his memoir, "A Journey to Recovery." At the end of his presentation, Hill encourages students to use him as a resource if they wish.
"Everything I am able to do today is because I came out of my struggles and looked at things in a different light," said Hill. "I found a purpose in all of it."