Congratulations to Schuylerville High School senior and girls soccer player Macey Koval, who was selected to the 2022 New York State Sportswriters & Coaches Organization for Girls Sports All-State 5th Team!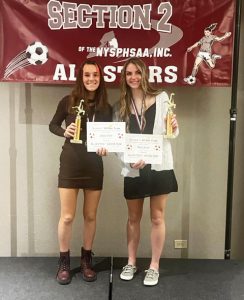 "Macey has been a tremendous player for our program throughout her high school tenure," said girls varsity soccer coach, Paul Rogan. "She is a fierce competitor, great leader and even better person.  Macey has been our leading goal scorer for the last three years, tallying 17 goals this past fall season.  She is also a clutch competitor, having clinically scored some of the biggest goals in program history.  Macey's play has not only been good, but it has been great.  She will be missed."
In addition, Koval and teammate Alayna Wian were named to the Section 2, Class B Girls Soccer All-Star Team for 2022, honored during a Dec. 4 banquet. Congratulations!