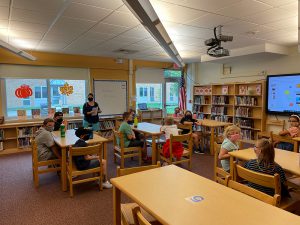 Congratulations to Schuylerville Elementary School librarian, Maria Weeks, who has been named a WSWHE BOCES School Library System Rockstar Librarian. She was chosen because of the leadership she exhibits in the library field. 
Weeks is in her 17th year as a librarian at Schuylerville, a path she wasn't always certain she would follow. Although she was an avid reader and worked as a library page in high school, she went on to college to earn a degree in engineering and management. After working in the industry for a few years, she found herself switching career paths. Weeks went to Library School at the University of Rhode Island, and eventually started working in the school library system.
"The kids are the best part of this job," she said. "They are funny, smart, and challenging; there is something to love about each and every one of them. They are so excited to be back in the library this year and so enthusiastic about everything we do."
At Schuylerville, elementary students follow a seven-day cycle rotation for special area classes. Weeks says she takes advantage of that time by planning activities and thought-provoking lessons surrounding literature and media. Weeks is also the advisor for the grades 3-5 Battle of the Books preparation, leading to annual, regional competitions in March.
"I'm always excited to share new books with students," said Weeks. "I feel like there are so many great new authors and books coming out right now, and so much more diversity. I also love how we can connect to authors through social media. It's a great way to get kids excited about books!"
Within its mission, the WSWHE School Library System empowers lifelong learners by providing vision, leadership, professional development, and other services to school librarians, facilitating access to all forms of quality information resources, and sharing best ideas and practices.