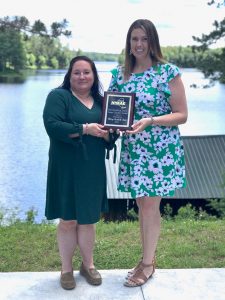 During the 2021 New York Association of Agricultural Educators Business and Awards Meeting, Schuylerville High School Agricultural Science Teacher Mary-Elizabeth Foote was named the 2021 New York Outstanding Early Career Teacher. This award serves as a means of encouraging young teachers to remain in the profession and to motivate and recognize participation in professional activities.
Foote teaches Agricultural Business, Animal Science, Food Science, Introduction to Agriculture and Plant Science while also advising the Schuylerville FFA Chapter. In the classroom, Foote believes that it is through offering her students unique opportunities, cultivating positive relationships and exuding passion for her content leads to students wanting to enroll in her agricultural classes. 
"Ms. Foote is an energetic and organized agricultural reacher that is entrenched in our community," said Schuylerville High School Principal, James Ducharme. "In the two years that she has been with us, she has redefined and reshaped our agriculture program. In that short time, we have been able to develop and offer new dynamic courses that have distinguished our program as one of the most notable in the region."
Throughout her career, Foote has obtained several grants for her agricultural education program while also receiving scholarships to attend a variety of professional development opportunities to better her classroom curriculum and instructional practices. Through these grants, Foote was able to work with the Schuylerville High School technology department to build raised bed gardens where students grow fresh produce for the high school cafeteria as well as local food pantry. Additionally, Schuylerville will be beginning a maple syrup operation as part of their agricultural education program through funds made available by the National FFA Organization. 
Outside of the classroom, Foote advises the Schuylerville FFA Chapter where she has made strides in increasing student participation in FFA competitions, award applications and general membership. This year, the Schuylerville FFA Chapter had the most state finalists within FFA Leadership Development contests in New York State, with one team advancing to compete at the National FFA Convention in October.
"The level of professionalism and leadership that now embodies our FFA students is a profound leap forward," said Schuylerville High School Assistance Principal Jordan Tezanos. "Ms. Foote has empowered our students to be confident in their leadership abilities while finding their voice as individuals."
Foote is now one the regional finalists competing to be named the National Association of Agricultural Educators Region 6 Outstanding Early Career Teacher, with the winner being announced later this summer.