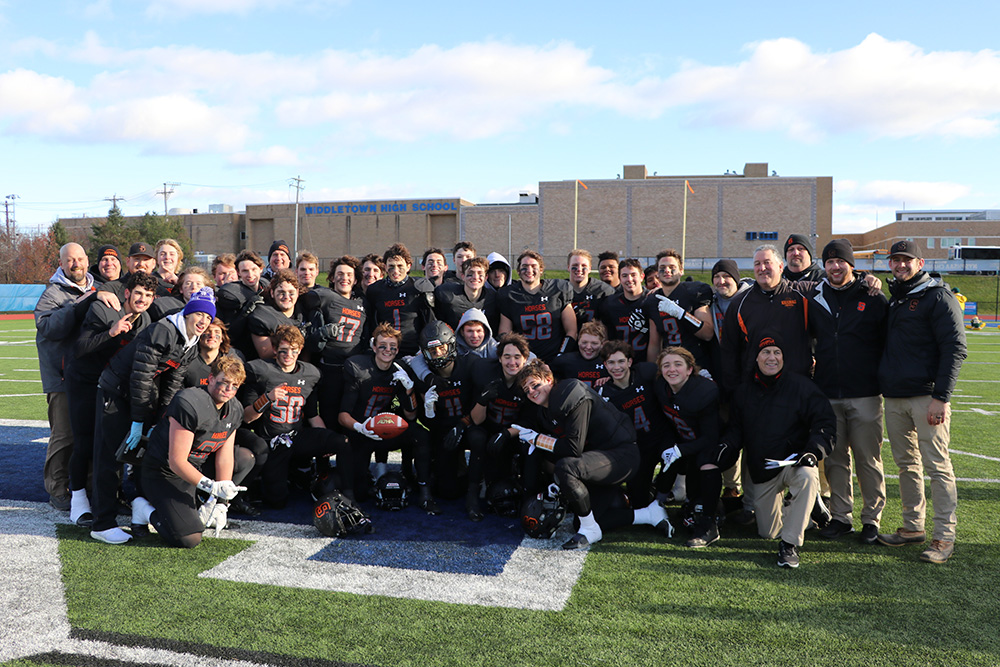 The Schuylerville High School varsity football team will advance to the NYSPHSAA Class C state championship after winning the state semifinals 52-14! The championship game will be played against Chenango Forks on Friday, Dec. 3 at 6:00pm at the Syracuse University Carrier Dome.
Ticket Information
All NYSPHSAA Championships will use online ticketing for the 2021-22 school year. Ticket prices are $10 plus fees. Tickets are general admission (no discounts for senior citizens or students.) Children age 5 and under are free. To purchase tickets: https://am.ticketmaster.com/syracuse/nysphsaa.
COVID-19 Information 
COVID-19 venue-specific information is in accordance with New York State Department of Health (NYSDOH) Guidance. All student-athletes, coaches, staff, officials, spectators, etc. must wear masks at all times indoors, regardless of vaccination status. Any medical exemptions must include documentation from a medical provider.
Friday, Dec. 3 early dismissal
On Friday, Dec. 3, all students in grades 6-12 will be dismissed at 1:40 p.m. (at the conclusion of 8th period.) There will no afternoon BOCES and no 9th or 10th period.
*There is no school on Dec. 3 for grades K-5 due to pre-scheduled parent-teacher conferences. 
Student Spectator Bus
A student spectator bus will depart from the high school at 2:00 p.m. on Friday, Dec. 3. Students will need to be picked up at the high school upon returning from the game. The cost for the bus is $2.00. Spectator bus tickets will be available for purchase at the high school main office through Wednesday, Dec. 1 at 2:00 p.m.
Students will be assigned to a specific seat, one student per seat.
Students will need to wear a mask for the entire bus ride, to and from the game.
No food will be allowed on the bus.
All spectators will need to wear a mask while inside the Carrie Dome for the duration of the game.
Spectator Parking & Transportation
Spectator vehicle parking will be available in the Stadium West lots (located between the Carrier Dome and Route 81.) There will be a $10.00 charge per car to park.
Signs & Banners
Spectators are allowed to hang banners and signs on the lower level only. They can be hung below the private boxes or on the handrail next to the field. They must not interfere with patron safety or building mechanical systems, or interfere with NYSPHSAA Championship or Sponsor signage. If they do, they will be removed immediately. Signs for each team should be hung on the side that their team is sitting on. The signs must be in good taste, as determined by NYSPHSAA and Carrier Dome management. No signs with initials are permitted nor are banners on sticks or poles. 
Concession Stands
Concession stands will be open during all games; no alcoholic beverages will be permitted or sold.