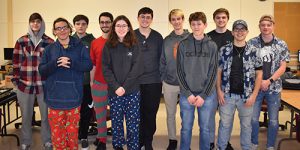 A new addition to the curriculum at Schuylerville High School is bringing with it new opportunities for students interested in computer science. Seeing a need to build upon the technology skills students at the middle school are learning, Principal James Ducharme secured a three-year grant through Amazon to purchase Edhesive; a digital curriculum to support an Introduction to Computer Science class.
This year, students enrolled in the grades 10-12 elective tried their hand at a series of coding assignments. Each one aimed to give students a basic understanding of computer programming and computer science, using the language 'Python' to code. Technology teacher Fred Lefton served as the students' facilitator, making suggestions and giving feedback to students throughout the course.
"The dynamic that was created in this class was great," said Lefton. "The self-paced, learn-as-you-go structure really worked for the students. My goal was to teach them to work cooperatively. They really became adept at helping each other solve problems."
"I think it was a great introduction," added Sebastian Calo, a senior who wants to pursue computer science in college. "Python was an easy first code to get into. I'm thankful to have taken the course, because it allowed me to know what I would be getting into in college. It gives you an idea of expectations and is definitely a great foundation."
One major element of Edhesive is the 'Code-Along' videos. Students code in small increments, pausing and repeating segments as necessary. They are able to work through new topics at their own pace, all while working towards mastery of the material.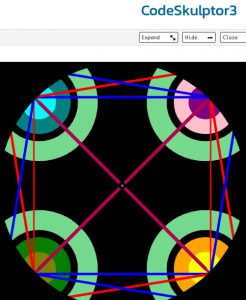 In one specific assignment, students created and completed an animation that used light, color and motion. The animations run using CodeSkulptor, a program that reads Python language codes.
"Edhesive covered concepts that are applicable to all of the different languages that are involved in coding," said junior Cameron Wian. "It was a good introduction, I'm glad we have something like this available."
While still in its first year of use at Schuylerville High School, Principal Ducharme says Edhesive only has room to grow. With the ability to prepare students for further study in computer science, he says it provides a bridge for skills students are learning in middle school technology classes.
"Edhesive helped to standardize and formalize the structure of the Intro to Computer Science class. It's provided a base if we want to create an AP class down the road, since we have students who have gone through the entry level course."
Click below to view the animations students created using Edhesive:
(after clicking the link, click the 'play' button in the top-left corner)