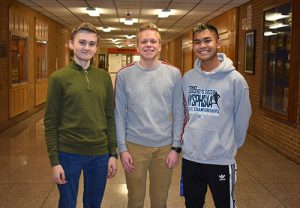 The theme of this year's New York State Council on Leadership and Student Activities (NYS CLA) conference was "Miracle of Leadership." The conference combined its location of Lake Placid, NY and the 1980 U.S. Olympic Hockey Team's victory as a foundation for three days of inspiring conversations and workshops with students.
Six Schuylerville High School students attended the annual state conference in November, which for 32 years, has aimed to inspire high school students to improve themselves and their civic awareness, become better leaders and communicators, and ultimately, experience a level of leadership that sets a foundation for their futures.
NYS CLA consists of 120 school districts from across the state, with a board of that consists of two elected students from each of the 12 regional districts in New York. This year, three Schuylerville High School juniors were chosen for a seat on the board: Cody Belden, Asa Dupras and Troy Soriano.
"It's really exciting to have a higher leadership position and learn more about what I can bring back to Schuylerville," said Dupras.
"Being part of an organization that brings people together is awesome and I am really honored," added Soriano.
This will be Soriano's and Dupras' first year on the student board and Belden's third. All three students are highly involved in Schuylerville's student government, student council, and junior class activities. 
"These students embody the meaning of leadership," said Schuylerville High School Principal James Ducharme. "The amount of time they volunteer at both the school and state level is admirable. I am proud of their commitment to their peers and look forward to their continued work as student leaders in Schuylerville."
The NYS CLSA meets twice a year to plan the annual state conference, which this year will be held in Monticello, NY. Students who are on the board work together to prepare workshops, research state charities and organize and implement networking opportunities.
"Being on the board is an honor," said Belden. "There are so many things that you have the ability to do once you have this position and I'm grateful for this opportunity."