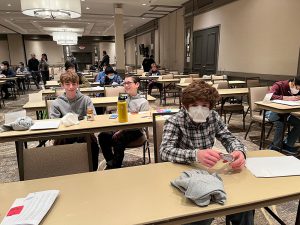 Following a virtual Mathcounts Chapter Competition Series, three of Schuylerville Middle School's five mathletes qualified for the state competition! Ethan Meskill, Charles Hughes, and Michael Becker competed at the March 5 State Mathcounts Competition Series being held in Saratoga Springs, led by middle school teacher Erica DiLello.
Mathcounts is a national middle school mathematics competition that builds problem-solving skills and fosters achievement through four levels of fun, in-person "bee" style contests
The Competition Series has four levels of competition—school, chapter, state and national. Each level of competition is comprised of four rounds—Sprint, Target, Team and Countdown Round. Altogether the rounds are designed to take about 3 hours to complete.
Sprint round:

Focuses on speed and accuracy. Students have 40 minutes to complete 30 math problems without a calculator.

Target round:

Focuses on problem-solving and mathematical reasoning. Students receive 4 pairs of problems and have 6 minutes to complete each pair, assuming the use of a calculator.

Team round:

ocuses on problem-solving and collaboration. Students have 20 minutes to complete 10 math problems, assuming the use of a calculator. Only the 4 students on a school's team can take this round officially.

Competition round:

Focuses on speed and accuracy. Students have a maximum of 45 seconds per problem without a calculator.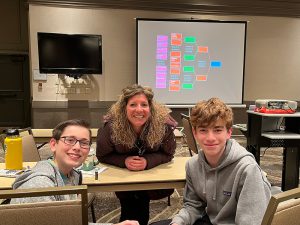 Congratulations to the middle school students who did an excellent job of representing Schuylerville CSD at the state competition!