Three Schuylerville High School juniors were honored by NYS Senator Daphne Jordan with a Youth Leadership Recognition Award. Brooke Schwerd, Caitlyn VanDeusen, and Jocelyn Zapien-Espinosa were recognized for outstanding achievement and serving as a leader and positive role model in the community. Each student had to write a brief statement about one of their accomplishments and submit their resume, accompanied by a letter of recommendation. All three students were nominated by Schuylerville High School School Counselor Sarah Rust.
The New York State Senate's Youth Leadership Recognition Award Program, sponsored by Senator Jordan, honors outstanding students who are destined to become future leaders. Eligible students include current sophomores, juniors, and seniors who excel not only academically, but through leadership in extracurricular and volunteer activities. There are four categories to choose from including: academics, athletics, arts and community service. Educators and school administrators have the opportunity to nominate eligible students. Below are excerpts from the award recipients' statements.
Brooke Schwerd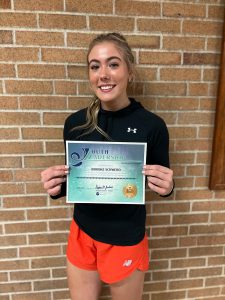 "My biggest accomplishment this year has been shared with the 2021-22 winter cheer team. This past year we lost many seniors who had been with the program and then gained many new faces. These girls walked in and stepped up to the task and gave the Schuylerville Cheerleading squad a glimmering reputation. For the first time in Schuylerville history, the competitive cheerleading team made it to the state finals at the Rochester Institute of Technology. This season, I was given the opportunity to be one of four captains which added to the amazing experience. To say that I am proud of these girls is a complete understatement. They truly stepped up to any task and were ready for anything, especially the challenges with the ongoing pandemic. There were times when people were absent and others had to learn new dances and stunts to fill in for them. This showed what a true teammate is…"
"…I think the biggest takeaway is that we were not upset or sad that we didn't win at states, we were just happy to have the experience and be part of the journey which we all worked so hard for. The team made history and to be a part of that is something I will cherish and wear proudly through my life's upcoming experiences."
Caitlyn VanDeusen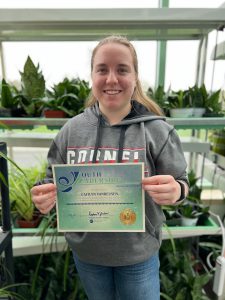 "One of the biggest accomplishments is being named the 2021-22 Saratoga County Dairy Princess. I have wanted this ever since I was a little girl. The dairy princess has always been someone I have looked up to growing up. I wanted to not only promote the dairy industry, but also be a role model for younger kids in the dairy industry and community as well. As the dairy princess, I have gone to many events throughout Saratoga County and talked to the public about the importance of the dairy industry and agriculture as a whole. For example, I attended "Sundae on the Farm" at Mill Creek Farm where I welcomed people to a tour of the horse farm. This past summer, I was able to be a part of "Think Differently Day" at the Saratoga County Fair. This event takes place every year at the fair and shuts down all of the flashing lights and noises at the fair, allowing for people with disabilities to enjoy the fair like everyone else. I enjoy this event, especially this past year, because I was able to give all of these people, both children and adults, the opportunity to pet a calf and learn all about it. Just by talking to everyone I could tell I was making a difference in their lives by giving them this opportunity…"
"…While I love all of the things I have been able to do as the Saratoga County Dairy Princess, the most important and influential part is going to the elementary school and talking to the students. So far, I have been able to visit all students in kindergarten, 1st, 2nd, and 3rd grades. When I visit these students, I am able to teach them about the dairy industry and talk to them about what I have done to get where I am today. This is the best part for me because I am able to make an impact in these kids' lives not only by teaching them about dairy, but also by serving as a role model…Becoming the Saratoga County Dairy Princess is the most meaningful achievement for me because it shows that all of my hard work throughout the years has paid off."

Jocelyn Zapien-Espinosa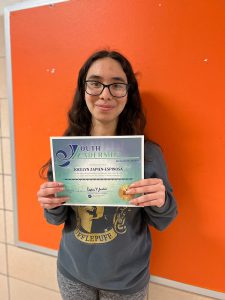 "I've had many accomplishments that I am proud of, however, the one that I am most proud of is being chosen to attend the HOBY State Leadership Seminar. HOBY is a high school leadership program where sophomore representatives from schools across eastern New York meet up and participate in a three-day workshop to learn how to become community leaders. It was a significant experience because I met hundreds of other sophomores who were like me, and I got to learn the multiple ways that they participate in their communities and school. One of the workshops that I participated in at HOBY was community service project development. My cohort was guided on how to develop projects and make a change. I remember that our focus was on special education and how additional funding and support should be offered in multiple schools. In order to do this, we developed a plan in which there would be speakers to educate students and teachers about special education, scholarships for special needs students and students who are interested in a career involving special education, and advocating for better support systems for special education students in schools. 
"Although we weren't able to execute this plan, it was important to us because we felt like we could make a difference. It's also comforting to know that there are many other students who think just like you. After attending HOBY, I have a greater appreciation for volunteering. Now, my goal is to volunteer in as many places in my community as possible because I want to make a difference in one person's life. This is why HOBY is one of my most important accomplishments. It made me realize that I am empowered to make a difference."