The following students participated in the 2022 New York State School Music Association (NYSSMA) Solo Performance Festival held at Ballston Spa High School. Congratulations to all of the students who worked diligently over the past few months to prepare their solos! 
2022 Instrumental NYSSMA Students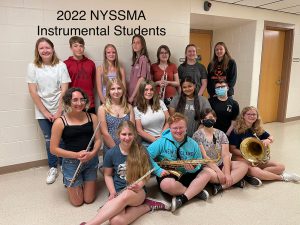 Campbell Bailey
Taylor Brown
Kim Brandt
Olivia Crowley
Willem Foster
Aleia Hastings
Nora Hughes
Q Krahling
Grace Lail
Lillian Letzring
Abby Levin
Fiona Longacker
Amelia Meskill
Joseph Thurston
Alexa Vidot
Elliott Woods
2022 Vocal NYSSMA Students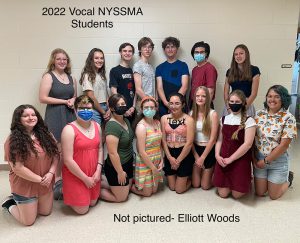 Campbell Bailey
Ian Bailey
Taylor Brown
Christopher Buettner
Skye Douglas
Aleia Hastings
Alex Huber
Nora Hughes
Lillian Letzring
Abby Levin
Nate Levin
Caiden Samuelson
Gabby Sliva
Maddie Solan
Alayna Wian
Elliott Woods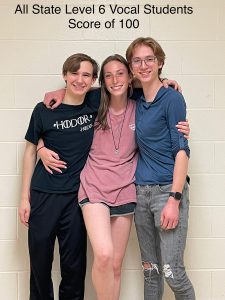 In addition, a special congratulations to Ian Bailey, Chris Buettner and Elliott Woods for receiving scores of 100 on their All State level vocal solos!