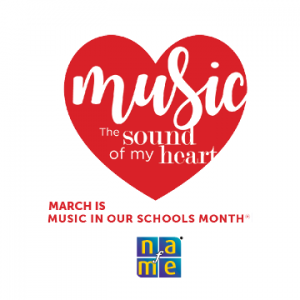 Across the country, "Music in Our Schools Month®" is celebrated every March by recognizing the importance of music education in school communities and the educators who dedicate themselves to enriching the lives of their students.  Music In Our Schools Month® been observed since 1985 by the National Association for Music Education (NAfME).
The 2021 theme is "Music. The Sound of My Heart," focusing on the social-emotional benefits of music in students' live that have carried them through the pandemic and brought joy in their communities.
In Schuylerville, several students from the elementary and middle school band programs contributed to a FlipGrid Mixtape. In their videos, they were asked to perform something they love to play and share why music is important in their lives. The Mixtape includes three 5th grade students, two 6th grade students, two 7th grade students, and two 8th grade students. Click here to view it.
In addition, similar to the Beginning Band Virtual Recital from last month, Kaitlyn Koch compiled a virtual recital for the Advanced Elementary Band students. Students shown in this FlipGrid Mixtape are 5th graders in their second year of studying their instruments. Click here to view it.