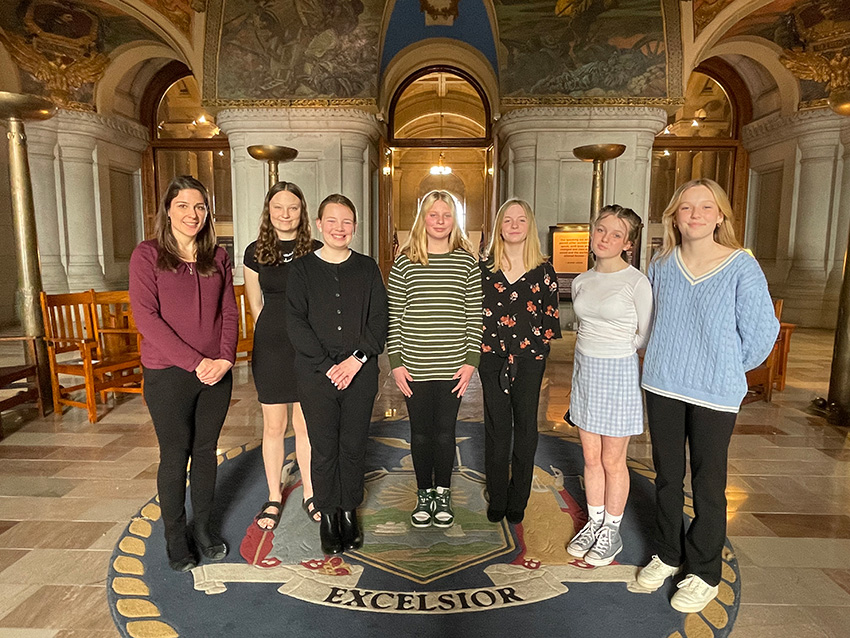 Six Schuylerville students spent time at the NYS Capitol, not only participating in a civic advocacy experience, but also drawing attention to an important issue facing all school districts. 
During the COVID-19 pandemic, the federal government provided funding for free school meals for all students in public schools, in response to rising food insecurity and the logistical challenges of ensuring access to meals while schools were closed. In June 2022, federal funding expired and districts in New York State began charging students for breakfast and lunch again, unless the student's family qualified for free or reduced-price meals. Statewide, an estimated 470,000 children are ineligible for free school meals, but live in households still struggling to make ends meet.
"From March, 2020 until June, 2022, 65 percent of students in the Schuylerville school district were taking advantage of free school meals, regardless of eligibility," said Schuylerville Food Services Manager Sarah Keen. "We are now feeding 52 percent since the expiration of the program. If you skip breakfast or lunch, it's hard to focus, it's hard to learn. We have a lot of families who don't qualify for free or reduced-price meals, but are still facing financial difficulties."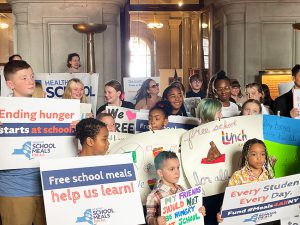 This spring, the NYS Senate and Assembly both included $280 million for the Healthy School Meals for All program in their one-house budget proposals. Governor Kathy Hochul must include the funding in the 2023-24 state budget in order for it to be approved. Schuylerville students joined advocates from across the state in support of the program.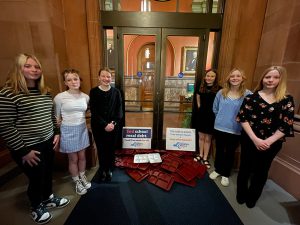 Students were joined by coalition leaders and legislators who gave remarks on the initiative, followed by students delivering empty school lunch trays to the door outside the Governor's office as a symbolic gesture. 
"Access to healthy and nutritious meals for all students, every day, aligns with our district's mission of providing the very best for every child," said Superintendent Gregg Barthelmas. "I am very proud of our students who participated in the advocacy effort at the state capitol. Not only was it a great experience for them, but excellent representation on behalf of our school district."
Participating students
Josephine Osgood-Goddeau (grade 6)
Riley Jacobs (grade 7)
Alexa Rust (grade 7)
Sidney Jacobs (grade 10)
Mary McGloine (grade 11)
Emily MacMillan (grade 7)
If passed, the Healthy School Meals for All program would be part of the NYS budget. Schuylerville and other public school districts throughout the state would continue to receive federal reimbursement for meals provided to free and reduced-price eligible students, but also receive state reimbursement for the cost of meals for full-pay students. The NYS budget is due April 1.