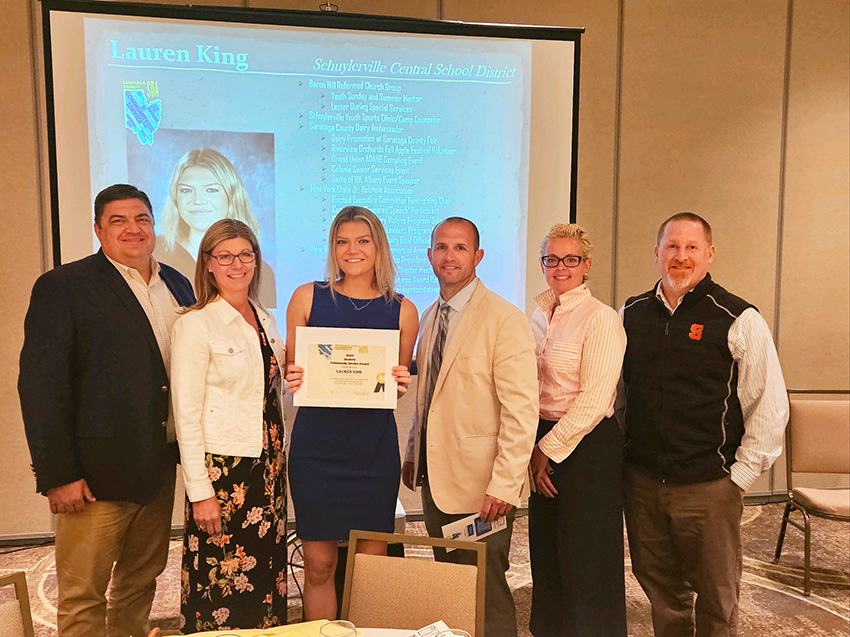 Schuylerville High School senior Lauren King was one of 12 students recognized by the Saratoga County School Boards Association for outstanding community service. King was given a $150 scholarship during a ceremony held in Clifton Park, accompanied by her parents, Becky & Jeff King, Schuylerville High School Principal James Ducharme, School Counselor Janine O'Brien, and Schuylerville Board of Education member and Saratoga County School Boards Association Delegate, Bernie Buff.
Community Service
King's volunteer work throughout her high school career was extensive, spanning many organizations within the community.
Bacon Hill Reformed Church
King worked with youth on Sundays and during the summer, gave readings during special services, and was an active participant during fundraising events.
Schuylerville FFA
King provided leadership to the Schuylerville FFA high school chapter during local, regional, sub-state, and state events. She conducted monthly chapter meetings, volunteered at competitions at all levels, and often visited with middle school students to help garner interest in FFA from her younger peers.
Saratoga County Dairy Ambassador
King dedicated her time to public education on the importance of the dairy industry at various community events including the Saratoga County Fair and the Apple Festival at Riverview Orchards. King also visited area elementary classrooms to teach students about dairy farming and nutrition, and spoke with NYS elected officials at the Taste of NY event in Albany.
Schuylerville Youth Sports
King participated and led clinics and camps with the goal of building the youth sports program.
Jr. Holstein Executive Committee
King was the Funding Chair for the Jr. Holstein Executive Committee and organized a complimentary dairy bar for the NYS Holstein Convention, attended by more than 400 people.