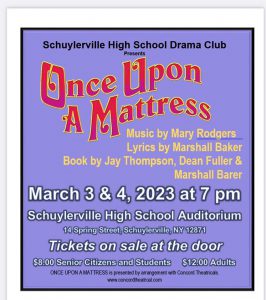 The High School Drama Club performed Once Upon a Mattress on March 3 and 4 at 7:00 p.m. in the Schuylerville High School auditorium, under the direction of Jodi Ogburn and Ivy Rechak. More than 50 students played a role in this year's production, as well as all members of the Schuylerville CSD Music Department faculty. The show was performed with a live orchestra. Click here for a video preview of the show.
Tickets
$8.00: students and senior citizens
$12.00: adults
Synopsis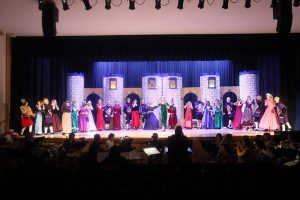 In this musical version of The Princess and the Pea, Princess Winnifred is an ungainly, brash girl competing for the hand of Prince Dauntless, whose domineering mother Queen Aggravain has declared he must marry a "true" princess before anyone else in the kingdom can marry.
Music by Mary Rodgers
Lyrics by Marshall Baker
Book by Jay Thompson, Dean Fuller, and Marshall Barer
Once Upon a Mattress is most appropriate and will be best appreciated by an audience of grade 6 or older.