The Schuylerville High School Drama Club performed The Legend of Sleepy Hollow on Friday, Oct. 29 and Saturday, Oct. 30, a production made up of 47 Schuylerville High School students in the cast and crew. 
Credits
Co-Directors: Jodi Ogburn & Ivy Rechak
Cast & Crew: 47 Schuylerville High School students
Costume Director: Kathy Hanehan
Sound Director: Chris Tucker
Technical Assistant: Andrew Freebern
Guest Appearances: James Ducharme & Nick Richard
Click here for a video preview of the show!
Synopsis
An excerpt of the synopsis written by Schuylerville High School students Nora Hughes and Grace Lail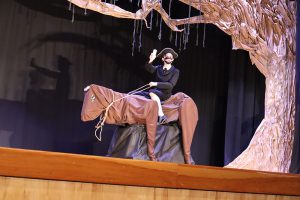 The Legend of Sleepy Hollow, based on the thrilling short story by Washington Irving, features Ichabod Crane, an arrogant and book-smart new schoolteacher. Sleepy Hollow, a quiet and quaint town, is shadowed by the legend of the Headless Horseman, a ghostly Hessian from the Revolutionary War. Ichabod's teaching skills are somewhat lacking, a fact which Hans Van Ripper, the superintendent, discovers after Ichabod's attempts at disciplining his unruly class end in a gluttonous daydream.
When Katrina Van Tassel, the beautiful daughter of the town's wealthiest citizens catches Ichabod's eye, he decides that she is the one for him. But this puts Ichabod at odds with Brom Bones, Sleepy Hollow's premiere bachelor, a sporting gallant with a mischievous streak.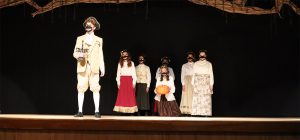 Come watch the story unravel and see how the Legend of Sleepy Hollow came to be in a thrilling, suspenseful, and dynamic performance starring 36 Schuylerville High School students!