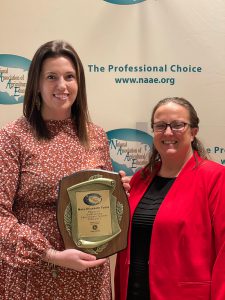 Schuylerville High School Teacher, Mary-Elizabeth Foote is one of six agricultural educators nationwide who received the 2021 National Association of Agricultural Educators (NAAE) Outstanding Early Career Teacher award, presented during the 2021 NAAE Convention in New Orleans, Louisiana. The award is presented to a NAAE member in their third to eighth year of teaching who has exemplified great teaching methods in the classroom and is dedicated to their career in agriculture education.
Schuylerville CSD's agriculture education program currently has 260 students enrolled across grades 9-12. The program offers a variety of courses that are taught in a project-based learning atmosphere, with Foote teaching Intro to Agriculture, Ag Business, Animal Science, Food Science and Plant Science. In addition, Schuylerville FFA has more than 65 active student members in both the high school and middle school chapters. FFA is a student-led agricultural leadership organization that prepares members for premier leadership, personal growth and career success through agricultural education. 
"Since Mary was hired at Schuylerville, our Ag Education program has doubled in size," said Superintendent Dr. Ryan Sherman. "Our students are engaged in a program that provides exemplary opportunities not only in the classroom, but also through New York FFA. Mary's teaching philosophy and dedication to her students results in an overall excellent learning experience that is a model for other districts throughout the state. It is an honor for our district to have one of our educators recognized with such prestige."
Foote has pursued several grants and scholarships for Schuylerville Ag education, totaling more than $28,000 over the past three years. A portion of the money was used to purchase Organic Grow Carts, which students use to grow and harvest greens for the high school cafeteria. Outside the classroom, Foote champions experiential learning, which has led to Schuylerville students being recognized on a national stage. In 2021, 11 Schuylerville students applied for a New York State FFA proficiency award; the district had the second most applications in New York State. Below are several accomplishments and recognitions Schuylerville FFA received during the National FFA Convention in Indianapolis this past October.
National FFA Convention Highlights 
9th place, Gold Ranking Dairy Judging Team

Three Individual Gold Ranking Members, one winning the competition for Holstein Classes

One Silver Ranking Member

Bronze Ranking National Agricultural Issues Team

Bronze Ranking National Horse Evaluation Team 

Three Silver Ranking National Proficiencies 

Two Bronze Ranking National Proficiencies
Looking ahead to 2022, students are in the process of pursuing highly esteemed FFA honors under the guidance of Foote, including NYS FFA Empire Degrees and participation in District 3 FFA leadership events.
"It is because of the unparalleled support from our community and the administrative team here at Schuylerville that we have been able to take our program to new heights," said Mary Foote. "It is a pleasure and honor to be able to work with such dedicated and passionate students in both my capacity as a teacher and the Schuylerville FFA advisor. Agricultural Education is my passion and I am beyond excited to continue to grow our program and the opportunities for our students."