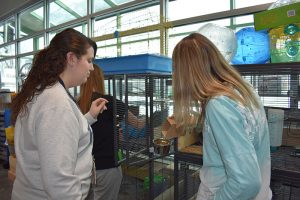 Schuylerville High School Agricultural Science Teacher, Mary-Elizabeth Foote, has been elected to serve on the Board of Trustees for the New York Association of Agricultural Educators (NYAAE). Foote will serve as the District 3 and 6 trustee, a three-year term. She will represent agricultural educators and programs locally in Saratoga County, but also as far north as Plattsburgh and as west as Watertown.
Foote is one of five state trustees on the board, and is accompanied by the region's alternate, Nichole Hirt from Indian River High School in Jefferson County.  Trustees advise, formulate and make recommendations and policies regarding the NY FFA Association and NYAAE, working to promote and maintain agricultural education in New York state.
New York Association of Agricultural Educators (NYAAE) is the professional organization of agricultural educators in New York state. NYAAE members are also members of the National Association of Agricultural Educators (NAAE). NYAAE is actively involved in: legislative advocacy for agricultural education; leadership and professional development; keeping abreast of the latest industry technology; annual professional development conferences; peer networking; teacher retention and recruitment programs, and educator mentor programs.