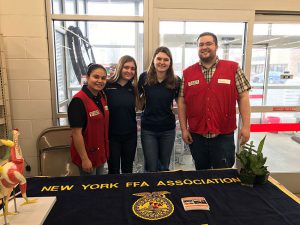 The Schuylerville FFA Chapter of Schuylerville High School has been named a 2020 recipient of two National FFA Organization grants, totaling $7,555. Both grants will be used to fund new agricultural education and FFA Chapter experiential learning initiatives at the high school.
The first grant was received as part of the Grants for Growing program, a competitive grant program for middle and high school FFA chapters that are developing and improving project-based learning opportunities for students. Sponsored by Tractor Supply Company, the FFA Chapter received $4,955 to begin a maple syrup production operation. The Chapter plans to purchase its own maple syrup evaporator, canning unit, taps and other equipment for maple syrup production. 
The second grant was received as part of the Living to Serve Grant, a grant program that supports various types of service projects. Applicants of this award must identify a community need that falls within one of four focus areas: community safety; hunger, health and nutrition; environmental responsibility; or community engagement. Awarded in the amount of $2,600, the Schuylerville FFA chapter plans to build raised bed gardens to grow and donate fresh produce to both the school cafeteria as well as S.A.F.E.R, Schuylerville Area Food Emergency Relief. This project will be done in conjunction with the high school technology program.
"Our FFA Chapter is beyond excited to be a recipient of both of these grants," said Mary-Elizabeth Foote, Schuylerville Agricultural Science Teacher and FFA Advisor. "The funds from these grants will continue to allow Schuylerville FFA members and agriculture students unique, hands-on experiences, while also providing the opportunity to give back to the community that has continued to support and invest in our program."
The funding for both grants is provided by the sponsors of the National FFA Organization, including: CoBank, Tractor Supply Company, Cargill, CSX, Dominoes and Elanco. 
The Grants for Growing program is specifically funded through the donations of customers who purchase $1 paper emblems at Tractor Supply stores during checkout during National FFA Week. 
*Thank you to Caitlyn VanDeusen, Schuylerville FFA Reporter for contributing to this article.