In the first few years of a child's education at Schuylerville, many fundamental principles are taught. But above all, one of the biggest pieces of a student's elementary years is the emphasis placed on being kind. While continuing their writing practice during the remote learning period, students in grades kindergarten through fifth grade spent time creating letters and cards for first responders and essential employees in the community.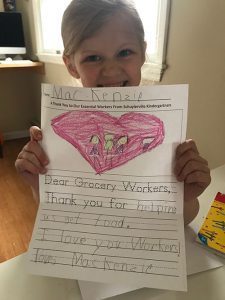 During the remote learning period, Schuylerville Elementary students have been receiving work via incremental home deliveries of packets. In April, every student was provided with an envelope with postage printed on it to encourage high participation. Each grade level was assigned an essential area of employment for the letters to be directed to; students were  responsible for addressing the envelope and placing it in their mailbox to be mailed. A small project turned into a big outpouring of support, with more than 400 students participating in the effort.
"This was a multi-layered lesson for our students," said Elementary Principal Rose Beckett. "Not only were they practicing their writing composition, they were taking time to create meaning behind their writing. I could not be prouder of our students and the amount of thought and care they put into this project." 
"I work at Saratoga Hospital and I loved seeing letters from the fourth graders," said Tammie Shaw. "It made my day a bit more colorful!"
Letters were on display throughout the Schuylerville community, in windows of farm stores, and outside businesses. Spreading cheer during a time when a little bit goes a long way.
"Being kind is number one," said Principal Beckett. "Any little bit we can do as a school district community to further that principle is so important."
Below is a list of first responders and essential employees in the community that received letters from Schuylerville Elementary students:
Byron's Village Market

Hannaford Supermarket

King Brothers Dairy 

Market 32 

Saratoga Hospital

Saratoga Springs Fire Dept.

Schuyler Hose Co.

Thomas Poultry Farm