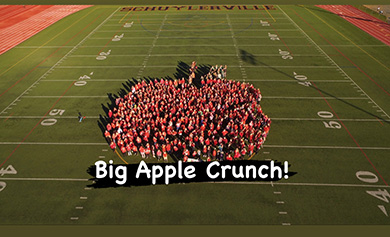 Schuylerville Elementary School participated and won the 2022 Big Apple Crunch–a contest/celebration held annually in New York State on Oct. 27 to promote local apples!  The New York State Education Department recognizes Schuylerville commitment to farm to school efforts and joined the district in its Big Apple Crunch Celebration. The district will be awarded a $1,000 scholarship for a FarmOn! Victory Garden in the elementary school's courtyard in 2023!
All Schuylerville K-5 students, faculty and staff gathered in Black Horse Stadium in the center of the turf field to form the shape of an apple, leaf, and stem. After the photo was taken, all participants enjoyed apples donated by Indian Ladder Farms!
FARM ON! is an organization with a mission of inspiring, educating and preparing youth for successful careers in sustainable farming.  Their vision is a world where a career in sustainable agriculture is valued and profitable.
More information can be found here: https://farmon.org/big-apple-crunch/