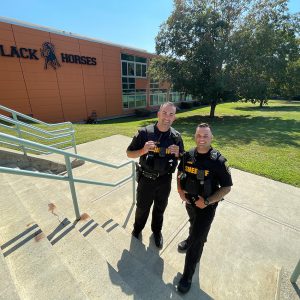 The Schuylerville Central School District would like to extend its thanks to Saratoga County Sheriff's Deputy, Zach Warriner, who has served as Schuylerville's School Resource Officer since September, 2018. Deputy Warriner has accepted a new position with the New York State Division of Criminal Justice Services Missing Persons Clearinghouse. In addition to his role as a SRO in Schuylerville, Deputy Warriner was involved in Schuylerville athletics, coaching softball, girls JV and varsity basketball, volleyball, and JV boys soccer.
"As a parent, community member, and administrator in this district, I could not have envisioned a person doing a better job starting the SRO program in Schuylerville," said High School Principal, James Ducharme. "He immersed himself in our school culture through coaching and being an active participant in countless school activities and events. We thank him for his service to our school community and wish him well."
"I will miss the people and the relationships I've built," added Deputy Warriner. "Everyone was so welcoming from the start and it's been a pleasure to serve this school community."
Beginning Wednesday, Sept. 13, Saratoga County Deputy Chris Greive will be the new School Resource Officer for the district. Deputy Greive is a Schuylerville High School Class of 2011 graduate. He served for six and a half years in the U.S. Air Force, stationed at the Stewart Air National Guard Base in Newburgh, NY, and did two tours in Iraq. He has been a Sheriff's Deputy with Saratoga County for three years.
"I look forward to the opportunity to come back to the community I grew up in and having a positive impact on students and their perception of law enforcement," said Deputy Greive. "I also look forward to continuing to grow the great foundation and relationships Deputy Warriner has built during his time at Schuylerville."