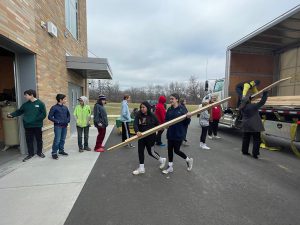 For the next six weeks, all 7th and 8th grade Schuylerville Middle School students will participate in the 5th annual Ballston Spa Birdhouse Program, an opportunity to experience production woodworking on a large scale.
The initiative, supported by Arts and Science Creating Community, Inc. (ASCC), began with a lumber donation from Curtis Lumber, a sponsor of the project. Schuylerville Middle School Technology teacher Mark Belden and his students received a delivery of enough wood to build 300 birdhouses. Belden says the hands-on experience, at no cost to Schuylerville, will be invaluable.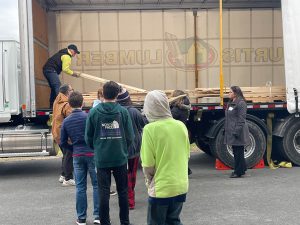 "With the current cost of supplies increasing, this is huge for us," said Belden. "Plus, I always talk to the students about opportunities for their futures, and now here is a local company coming in, encouraging careers in this industry. It's awesome."
"We have created this program to support the WorkForce initiative, to support the trades as a realistic option for students once they finish their education," added ASCC Executive Director, Mark Blech.
Students helped unload the lumber off the Curtis Lumber truck and will get to work immediately, spending the rest of January and the month of February on the project. Once completed, the birdhouses will be distributed to community members to decorate and be put on display throughout the Village of Ballston Spa from May to October.