With students and staff all wearing orange and black, Schuylerville Middle School kicked off its positive school culture campaign for the second year in a row. The campaign is a comprehensive effort spanning all aspects of the school day, from recognizing and rewarding positive behaviors, to giving students the tools they need to understand and manage stress.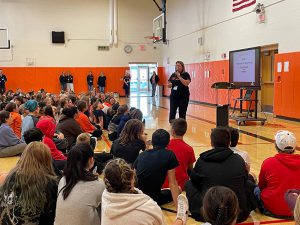 "Collectively, we are a family," said Principal Katie Elsworth as she addressed middle school students. "We treat each other with respect and kindness. But this isn't just about 'not being mean'. It's about going out of your way to see if you can help someone else."
Principal Katie Elsworth says the middle years are a crucial time to teach children about the importance of becoming connected to the school and to their peers.
"Be an upstander," Elsworth encouraged students. "Don't just stand by and watch something negative happen. Be proactive."
As a way to encourage involvement outside the school day, students were introduced to the various clubs and organizations they can join, by attending presentations with advisors throughout the building. Students also learned about athletic offerings, mental health supports, community service initiatives, the National Junior Honor Society, and the Dignity for all Students Act.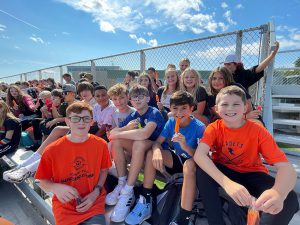 A student/staff relay race was held, and students were introduced to the "Gotcha" ticket program, where teachers simply catch kids doing great things. Every time a student is "caught," they enter a ticket into a monthly prize drawing. The goal each month is for the "in the moment" behaviors to become customary as the year goes on.

"Our goal is to have students model positive behavior for other students," said Asst. Principal Maddie Wright to students. "We want you to have a great and positive middle school experience. The main takeaway from this kickoff event is for our students to know everything they do has an impact on someone else."