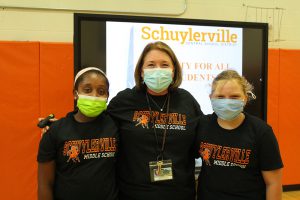 Positivity. Unity. Kindness. Connection. Four words with even greater meaning this year, as Schuylerville Middle School kicks off its positive school culture campaign! On the second day of school, students in grades 6-8 gathered together for the afternoon to receive an introduction to all the middle school has to offer.
As a way to encourage involvement outside the school day, students were introduced to the various clubs and organizations they can join. Students selected five clubs they wanted to learn more about and attended presentations with advisors throughout the building. Students also learned about athletic offerings, mental health supports, community service initiatives, the National Junior Honor Society, and the Dignity for all Students Act.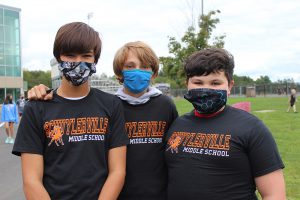 "Welcoming everyone back into the building this year, as one cohesive grades 6-8 student body, has been wonderful," said Middle School Principal Katie Elsworth. "For students, it's going to be the best thing to have a regular routine every day where they are in school, meeting their teachers, making friends and getting involved."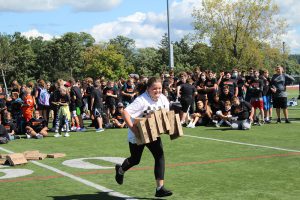 Students all received a Schuylerville Middle School t-shirt to promote unity and participated in a student/staff relay race. Students were also introduced to the "Gotcha" ticket program, where teachers will catch kids doing great things and their tickets will be entered into a prize drawing each month. 
The following students were the winners during the kickoff event drawing, and were given a basket of assorted goodies.
Grade 6: Colden Harrison

Grade 7: Charles Barton

Grade 8: Brooke Murphy

Grade 8: Isabelle Lumbra
"The number one goal for our students this year is to feel connected to the school and to each other," said Principal Elsworth. "We are so excited to start this year in such a positive way."
Click here to view a Facebook album of photos from the kickoff event.