Local muralist and artist, Kendra Farstad, spent a day at Schuylerville High School, engaging students in a live, full-day demonstration with oil pastels. Farstad worked in Kirt Winslow's Studio in Drawing classes, giving students the opportunity to see an artist work in real-time. 
Throughout the school year, the Studio in Drawing course explores the different techniques, styles, and mediums involved with drawing. Students are exposed to a variety of cultures, artists, and artistic movements, with a strong emphasis on color theory, elements of art, and principles of design.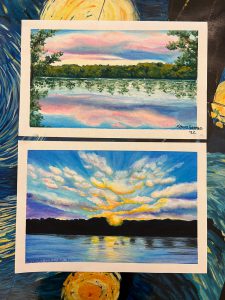 During her time in Mr. Winslow's classes, Farstad finished two pastel landscapes, explaining the process of working oil pastels and answering student questions. The finished artwork was raffled off to two students.
Schuylerville thanks Ms. Farstad for the donation of her time and valuable expertise!