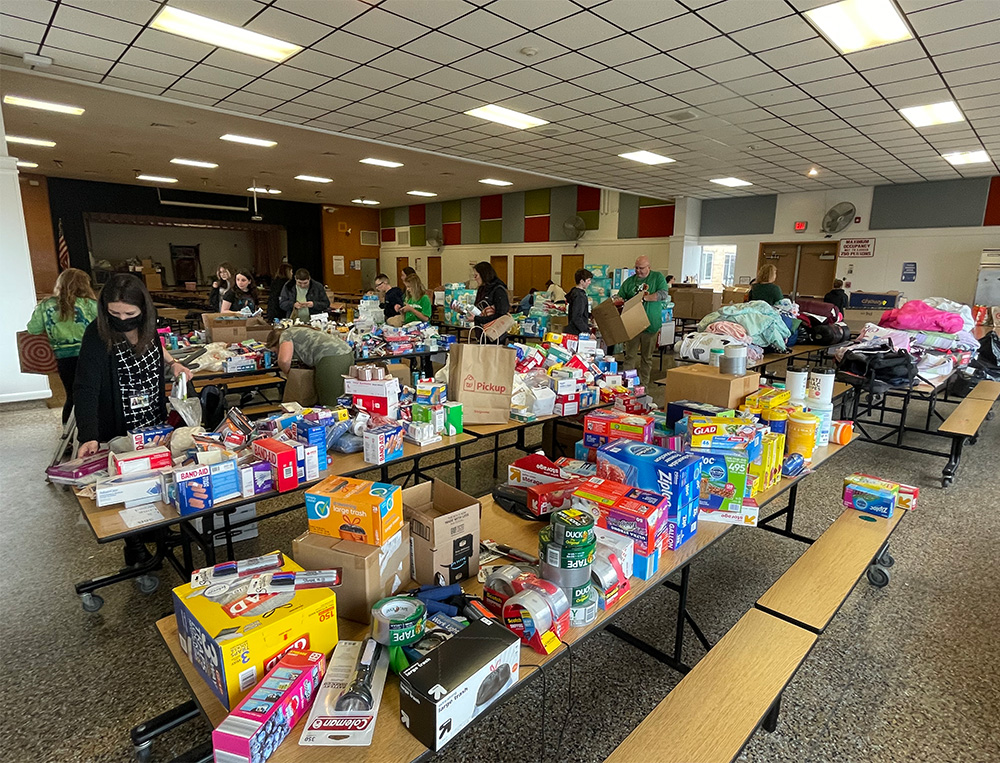 A call for humanitarian aid for Ukraine was answered by Schuylerville CSD in a multi-tier effort that spanned the entire school community. In just one week's time, boxes of donations that filled an 18-foot truck were collected, sorted, packed and transported to the St. Nicholas Ukrainian Catholic Church in Watervliet. From there, the items were shipped to refugee camps at the Poland-Ukraine border, as well as to cities in western Ukraine.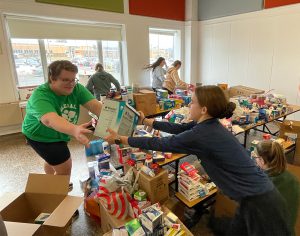 The effort expanded beyond humanitarian aid donations, resulting in an all-encompassing show of support for Ukraine, as well as for Schuylerville students Abigail and Michael Becker. The Beckers moved from Ukraine to New York when they were five and three years old, but still have family in Kyiv.
  Students in grades K-8 wrote and illustrated letters with the message "Love from Schuylerville, New York…" to families in Ukraine. The letters were included with the boxes of donations.
  UHaul and Home Depot donated packing boxes
  Penske donated the 18-foot truck to help transport the donations from Schuylerville to Watervliet
  Schuylerville faculty and staff participated in a K-12 dress down day during the aid drive, that raised $1,640 for shipping costs of the supplies donated.
"Our family has been overwhelmed with everything we saw happening in one week's time," said Abigail and Michael's mother, Tania Becker. "My family members who are in Kyiv were able to see the photos and all the humanitarian aid that was going to the Ukrainian refugees. They were very touched and happy."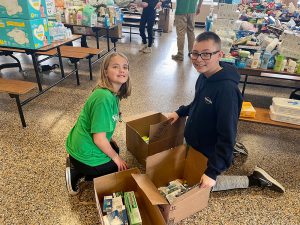 "If we can help in any small way, that's ultimately what we teach kids about," added Middle School Principal Katie Elsworth. "I think sometimes students feel helpless. They watch tv, they see social media, and they see the news, but they really don't know how to solve it at the local level. With the Beckers, students can see their efforts will have a personal impact on a family they know. Ultimately, we want to show the Beckers love from our community. That's what we are about."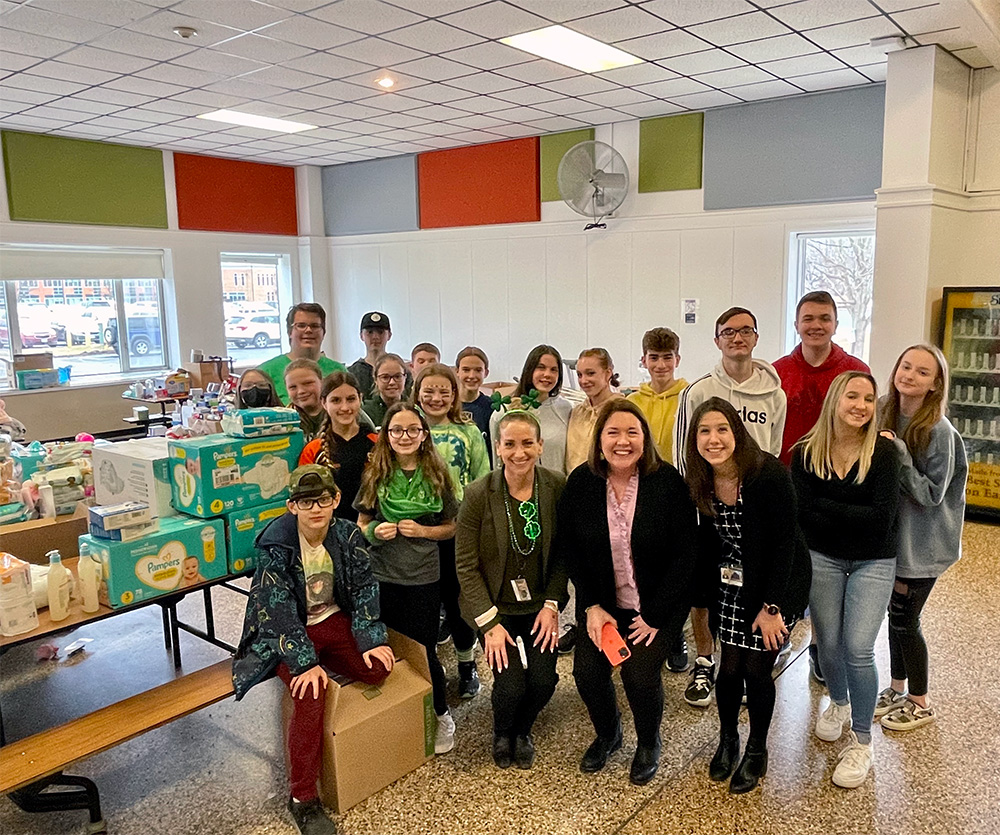 Once donations were collected in the three district buildings, they were moved to the elementary school cafeteria, where students and adult volunteers got to work to organize and pack items. Additional donations were collected at the Saratoga Regional YMCA, Wilton branch, and the Summit at Saratoga, a 55+ senior independent living community, and brought to Schuylerville.
"It's heartbreaking to see what's happening," said high school senior Katie Pelletier-Hoblock. "We have people in our community who are being affected and it hits close to home."
"Whenever anything bad strikes in the community, I feel like our students, teachers and staff, really come together and offer a helping hand," added high school senior Maeve Buff. "We are really proud to be part of this community."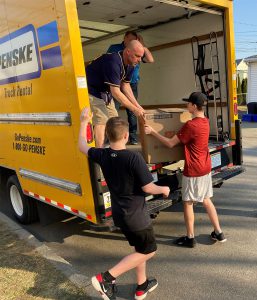 Several students and their families also traveled to the St. Nicholas Ukrainian Catholic Church in Watervliet to assist with the unloading of packed donations in preparation for shipment. It will take five weeks for the donations to be delivered to Ukraine. The process includes customs, loading containers on the ship, shipping, additional customs in Poland, and then trucking to the refugee camps at the Ukraine-Poland border. 
"Thank you to everyone for your unbelievable support, commitment, enthusiasm, excitement, generosity, time, hard work, and kindness," said Tania Becker. "The humanitarian aid drive for Ukraine turned out to be more than just a project for Schuylerville or desire to support the Beckers. I think it was a celebration of our small community coming together to do something wonderful and right."