Several Schuylerville High School students participated in the NYS SkillsUSA Leadership and Skills Championships, held at the NYS Fairgrounds in Syracuse. The focus and goal of the Washington-Saratoga-Warren-Hamilton-Essex BOCES Career and Technical Education (CTE) division programs is preparing tomorrow's skilled workforce today, with students often competing at a local, regional and state level. The competitions highlight what students have learned and exemplify their proficiencies.
Results
Austin Prouty: 1st place, HVAC
Claire Pelletier-Hoblock: 2nd place, Job Interview
Adrianna Cozzolino: 3rd place, Crime Scene Investigation Team of 3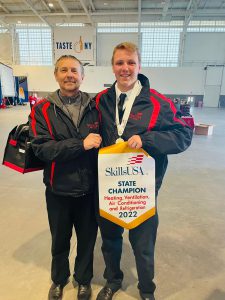 Schuylerville High School junior Austin Prouty will advance to the SkillsUSA National Competition, to be held in Atlanta, GA June 20-25. WSWHE BOCES Career and Technical Education teacher Jeff Rescott, says Austin has a unique ability to think at a different level.
"Austin stood out to me from the beginning," said Rescott. "He has a great analytical mind and incredible common sense that he applies to his work. He's consistently engaged in class and is always asking questions. Austin has proven himself to be a leader. I am so excited for him to experience and compete at the national competition."