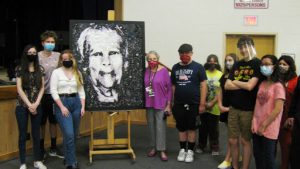 Mrs. Beth Bayer of the Schuylerville High School staff was presented with a mural hand painted and crafted by Ms. Luke's Studio in Drawing classes, brought to life during and throughout the fourth quarter.  Students collectively created a large scale collaborative portrait under the guidance of Anastasia Koumanis, Emily Oakes and Reagan Hutchinson, who were placed in charge of the construction and detailing of the mural. 
"We watched Wasteland, [a movie] based around a man who was an artist who wanted to do a big art piece that was a tribute to the work people do," said Reagan Hutchinson, discussing the project's inspiration.  "The film highlights Vik Muniz, an artist who creates large scale portraits, using materials that represent the lives and work of his subjects."
"Many of us have a variety of interests and talents," added student Anastasia Koumanis. "We all came together and added to the specialty of the project."
When asked who the students wanted to highlight in the project, the answer was an overwhelming "Ms. Bayer."
"We really wanted to do something special for her," said Koumanis. "We all love her and love seeing her in the hallway every day."
The project utilized several different materials, with every item carrying a special meaning directly attributed to Mrs. Bayer. Hall passes represented her hall duties and lunch menus represented the time she spends with students in the cafeteria. The portrait was also made of fabric, buttons, beads and gems stones donated by the community.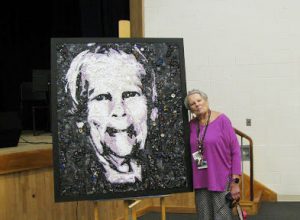 The mural was presented to a very surprised, emotional and grateful Mrs. Bayer.
"She is very important to this entire community," said Hutchinson. "Mrs. Bayer has worked here for a long time and everyone adores her. She has dedicated a lot of time into making this school a better place. Simply put, she's a legend."