As the Schuylerville Central School District opens its doors to students for the 2020-21 school year, the final phase of its $24.7 million capital project nears completion. Approved by voters in 2016, the project wasn't slated to be finished until September of 2021. However, with the closure of schools due to COVID-19 in March, work that was anticipated to be done during the summer of 2021 was able to be accomplished during the spring and summer of 2020.
Bill McMordie of Saratoga Project Management, Inc. served as the district's project manager throughout the process. McMordie says the project is under the referendum's budget pending completion.
"While the closure of our schools was a difficult way to end the 2019-20 school year, it did allow for significant project work to be completed on campus," said Superintendent Dr. Ryan Sherman. "As we turn the calendar to a new school year, our students will immediately start benefiting from the new and renovated spaces."
Due to COVID-19 restrictions, a community open house will not be scheduled. However, a full video tour highlighting the final phase of the project will be released to the public later this month. Below is a list of work that was completed since January 2020. 
High school renovations
Renovation of the previous Ag & Tech spaces to house the new district offices

New energy efficient windows installed in the high school C wing, as well as in the math and science wings

Construction of a girls team room

Expansion of the fitness room (the installation of equipment is delayed due to COVID-19 manufacturing difficulties) 

Upgrades to the high school gymnasium

Refurbished bleachers

Removal of the main gym's dividing partition with the resulting space renovated to include the addition of a storage room
Middle school addition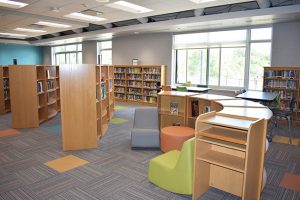 Music/band room

Library

Special education classroom

Technology classroom

Science classroom

New guidance suite

Additional storage and bathrooms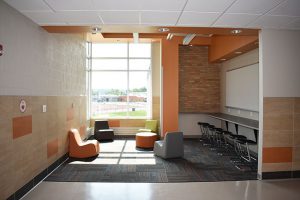 Flex space adjacent to the library for students to use for collaborative group work; the space is also equipped with iPad charging stations.
Middle school renovations
A new, secure vestibule 

Provides a safe and secure way to better screen visitors upon arriving at the school
Elementary school renovations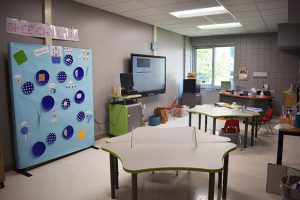 Renovation of two academic intervention services (AIS) classrooms

New Energy Efficient elementary windows in the 1990 addition 

Renovation of cafeteria (to be completed by October 2020 with the installation of noise-reducing sound panels. Round concept cafeteria tables were ordered and placed in storage as a result of COVID-19 health and safety protocols/the need for polycarbonate partitions).

Plumbing infrastructure work

A new, secure vestibule 

Provides a safe and secure way to better screen visitors upon arriving at the school