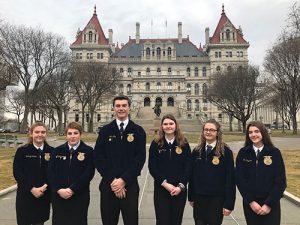 It's an annual opportunity for students to gather together and advocate for agricultural education–an opportunity six Schuylerville FFA members took advantage of this year. The students participated in the 2020 State Leaders Experience (SLE), along with 140 of their other high school peers from across the state. SLE is the capstone leadership experience for New York FFA members.
"The whole goal is to advocate for agriculture and agriculture education, but also to expose students to Albany and get them comfortable talking to legislators," said Schuylerville Ag Science teacher, Mary Foote.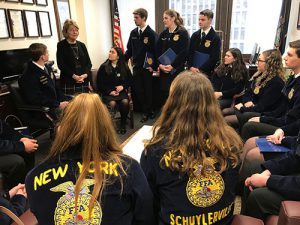 Foote accompanied Schuylerville's FFA officers during the two-day event at the State Capitol. Students spent time talking with lawmakers about the legislative process, issues facing the agriculture industry, Schuylerville's own agriculture course offerings, and the new capital project learning spaces.
"We talked in depth about why agriculture education is so important to us personally," said senior Dahlia Thomas.  
"We thanked Assemblywoman Carrie Woerner for helping us get a grant to pay for a lot of the equipment we use in the ag room," added senior Lainey Koval. "It was nice to be able to thank her in person."
In addition to Woerner, students met with Senator Alessandra Biaggi, Senator Betty Little, and the Legislative Director for Senator Daphne Jordan, some of whom expressed interest in touring the new agriculture learning spaces in Schuylerville High School.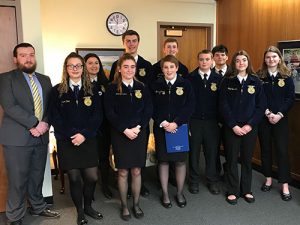 Foote says an integral part of the State Leaders Experience is advocacy, as agricultural education is a line item in the governor's budget; the funds often subsidizing the cost of the FFA trips students go on.
"Students go and tell their stories," she said. "Teachers go and say thank you for helping fund and support what the students are able to do."