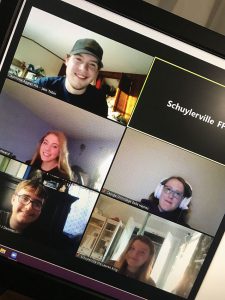 Hosted annually by Cornell University's Collegiate FFA Chapter, the Chapter Officer Leadership Training (COLT) provides an opportunity for Chapter FFA Officers across New York to cultivate individual as well as officer and team management skills. Held virtually this year in November, Schuylerville FFA's eight-student officer team joined more than 200 other students from throughout the state for the intensive leadership training. 
Throughout the three-day conference, officers attended virtual workshops focused on developing their individual leadership skills, promoting agricultural awareness in their community, and conducting virtual FFA meetings and events throughout the school year. 
"Attending COLT really helped better prepare our officer team for the challenging year ahead," said Nate King, Schuylerville FFA Chapter President. "By being able to hear from other chapter officers from around New York and take time as an officer team to plan future events, we'll be able to help provide the most normal possible year for our members." 
FFA is a student-led agricultural leadership organization that prepares members for premier leadership, personal growth and career success through agricultural education. Schuylerville FFA has more than 65 active student members in both the high school and middle school FFA chapters.