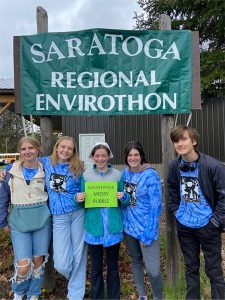 10 Schuylerville High School students traveled to the Saratoga County Fairgrounds to compete in the regional Envirothon competition sponsored by the the Saratoga County Soil and Water Conservation District.
Schuylerville's two, five-person teams competed as groups in quiz-style competitions, covering five environmental topics: wildlife, forestry, soils, aquatics, and current events. Teams were also given an environmental issue/challenge that they created a solution for and presented to a panel of judges.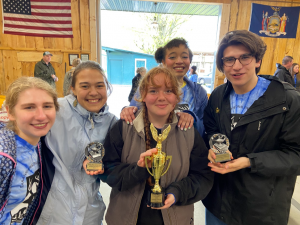 Schuylerville's Junior Envirothon Team will now advance to the state competition under the direction of advisors Carlyn Miller and Emily Flores, which will be held at Hobart & William Smith Colleges in Geneva, NY on May 24 and 25. Congratulations!
Sophomore Team Members
This team won the soils division and came in third overall.
Henry Otto
Fiona Longacker
Sara (Alex) Huber
Taylor Dennis
Sydney Jacobs
Junior Team Members
This team won the wildlife and presentation divisions and scored first overall. 
Nate Levin

Eleanor Hughes

Madelyn Solan

Emilee Archer

Ezabella De Los Santos