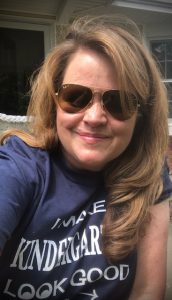 Schuylerville Elementary School's kindergarten teacher Mary Beth Moran has been recognized as TCT Federal Credit Union's Teacher of the Week. Every week during the school year, the credit union honors local educators and school employees for their outstanding efforts highlighted through nominations from the community.
"Ms. Moran has a passion for teaching that permeates throughout her classroom," said Principal Rose Beckett. "She treats each of her students with love and respect while challenging every child to be their absolute best every day.  Schuylerville is home to many outstanding educators that go above and beyond for every child they work with.  While education looks very different due to our COVID-19 pandemic, Schuylerville educators have faced this challenge with grace and stamina to ensure that our children are learning at a high level, have a sense of connection, and feel safe each day regardless of their model of instruction."
Click here to read the TCT Federal Credit Union article.