It is with great sadness that the Schuylerville Central School District shares the passing of teacher Dave Mehan after a courageous fight against cancer. Dave's chapter at Schuylerville began in September of 1997. During his tenure of almost 26 years, Dave was known as a devoted educator with an unmatched sense of humor, a person who had a huge heart, and an individual who had a unique ability to connect with students and staff in an incredibly meaningful way. Dave never met a stranger. He was kind and funny, and put people he met at ease immediately. Dave's colleagues share, "it is a testament to Dave how many friends, colleagues, and family members stepped up to help him in some way throughout the past year. To have been part of Dave's life means you experienced a special kind of joy."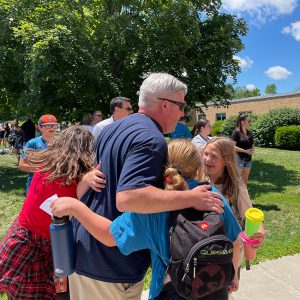 Dave began his career at Schuylerville as a Co-K teacher. His first class consisted of only five students who were often seen in the halls following Dave around as he played the guitar. Those students were coined "Dave's Ducklings." But "Dave's Ducklings" weren't just under five years old forever; a few years later he began teaching fourth grade. For more than two decades, Dave's students loved, adored, and looked up to him just like those first Co-K students in 1997. Dave worked to know the whole child. He could always tell when students were struggling emotionally and would go out of his way to connect with them. Dave's students were comfortable with him from day one in September.
Dave loved being a teacher and loved being Irish. When St. Patrick's Day arrived each year, Mr. Mehan was known as "Shamus O'Malley." He walked into the elementary school dressed with a red wig, beard, and shamrock sunglasses, and called his students lads and lasses in an Irish accent for the day. Dave's colleagues say he taught them to laugh more and that you're never too old to be silly. "He was always up for a good joke and had such a great sense of humor. I smile just thinking of the memories Dave has created throughout the elementary school building."
Dave's sense of humor directly correlated with his success as an educator. For several years, Schuylerville teachers Pat Whalen and Chad Jorgensen worked closely with Dave in integrated classrooms. They both recall their admiration of Dave's relationship and rapport with students, as well as his ability to empower and motivate students in a classroom environment. "Working with Dave was an awesome dance of teamwork."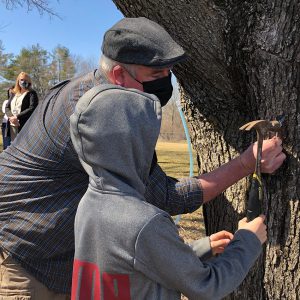 Outside the classroom, Dave coached modified track and field for a few years, varsity girls soccer for more than a decade, and assisted with the Elementary School Ski Club. He helped organize food drives for SAFER and was a dedicated member of the Schuylerville Teachers Association, serving as building rep, vice-president, and eventually president. Dave loved to cook, and at lunch time, the fourth grade teachers often benefited from crockpots of soups and stews that he would bring in to share. In the spring, Dave and fellow fourth grade teacher Pete Carner were the first to tap the maple trees around campus so students could understand the process of maple sugaring.
Often referred to as a Renaissance man, Dave loved gardening and was a talented musician. During his initial years at Schuylerville, Dave befriended several other newer teachers, who also loved music. Dave, his cousin Jason Mehan, Bryan Alvarez, Chad Jorgensen, Chris Tucker, and Pat Whalen all loved music, but no one knew how to play guitar except for Dave. "We decided to form a band, but everyone showed up with a guitar!" recalled Chad Jorgensen with a laugh. "We soon realized that's not a band and we had to diversify." From there, "Meehan Road" was born. A rock 'n roll cover band, the group of teachers/musicians played a "cornucopia" of music for ten years, performing in shows throughout Saratoga County, as well as benefit concerts for SAFER and for fellow Schuylerville staff members who were battling illnesses. 
Dave is predeceased by his father, David, and survived by his two children Garrett and Molly, and his mother Maureen, who was an incredible support to her son during his illness. Dave's colleagues emphasize he truly was "the best of them" and their time together was not nearly enough. Aside from his humor, Dave had the biggest heart and taught anyone who met him that life is meant to be lived. His presence will be missed everyday. 
Below is a sampling of an abundance of reflections written by Schuylerville faculty and staff members, as they recall some of their fondest memories of Dave Mehan.
"During the pandemic, the fourth grade teachers would still try to have lunch together once a week via Google Meet. During the first lunch we had, Dave joined the meeting wearing an awful set of fake teeth! We were so stressed, and I feel like that was the first real laugh we had had in such a long time. He made us all better people by finding the positive and finding the humor."
"He was a Boston Red Sox fan, but I really couldn't hold that against him. I just didn't understand why a New Yorker wouldn't be a Yankee fan!  But we made our differences work!"
"Every year at Thanksgiving time, Dave would gather stacks of coupon flyers from the local grocery stores. When we were in class, he would have the main office call his classroom phone, but tell his students his mom was on the phone. When he hung up, he would tell the kids his mom forgot to go shopping for Thanksgiving dinner and he had to now do it! As a math lesson, he would put the shopping list on the board and the kids would have to price it out using the flyers. The object of the game was for the winning group to save the most money at the stores.  The kids absolutely loved it!"  
"On warm weather days, Dave would quickly trot down the hall with his teacher tote, sporting either a plaid long or short-sleeved shirt, with a colored t-shirt underneath, and khaki pants. Khaki shorts if it was getting closer to summer! It was his signature look. In the winter months, he looked like a celebrity coming down the hall with his aviator sunglasses, a scarf around his neck, and his wool jacket!  His full head of gray hair made him look very debonair!  
"He was someone I could always count on to make me laugh. Dave had a way with words and could easily brighten my day in an instant, especially during our 4th grade lunches. Dave would often share a story or say a quick one liner that would have us all barreling over in laughter. Together as a team we found friendship."
"When I was going through my own cancer battle in 2016, he helped to organize my fundraiser. When he himself became sick, I could not believe the strength & determination he had. He has fought so hard this past year, traveling to whatever doctor he needed to, never giving up hope that he would beat it. I saw him for the last time a week ago and although exhausted and in pain, he was still cracking jokes and being the sarcastic Dave we all know & love."
"Dave was one of the only people I know that could walk into a room anywhere and strike up a conversation with the people as if they had known each other forever. I will miss seeing him in the hallway and sharing stories with him by a fire, but I know that he is on a trail somewhere hiking down the path to a great view."