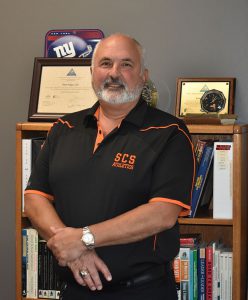 After more than 12 years of service in the Schuylerville Central School District, Peter Riggi will be retiring from his role as Director of Facilities. The scope of his work through the years has included supervising the buildings and grounds department, maintenance mechanics, grounds personnel, custodians and cleaners. 
Born and raised in the Capital Region, Riggi is a graduate of Colonie Central High School. While in high school Riggi took a drafting course, a decision that sparked his interest in the field he would eventually end up in. While studying for a degree in industrial technology, Riggi began honing his hands-on skills, working for a construction company framing and building houses. His degree from SUNY Buffalo led him to his first job as a production supervisor at Saratoga ARC. From there, he spent four years at Skidmore College in Saratoga Springs as the Maintenance Supervisor, and then another 20 years at the Washington-Saratoga-Warren-Hamilton-Essex BOCES as Director of Facilities. In 2008, Riggi was hired at Schuylerville by then Superintendent Dr. Leon Reed, but worked for most of his tenure with Superintendent Dr. Ryan Sherman.
"Ryan would always tease me, saying, "you want to wax the floors, you want the fields to look perfect and then you don't want anybody on them!" That's not true," chuckled Riggi. "What it is, is I want it all to look good so they can be on them!"
Riggi and Dr. Sherman worked on multiple construction projects and renovations together through the years, focused on improving and updating infrastructure, as well as enhancing students' academic experiences. The first project was in 2010 with another that followed in 2016, just completed this fall.  
"Peter Riggi is dedicated and conscientious in making sure our facilities support our students' educational and extracurricular activities," said Dr. Sherman. "His mantra always has been 'our facilities will be second to none.' He is well revered throughout the state and has achieved a myriad of awards throughout his career, but his professional accomplishments pale in comparison to his personal character. Peter is a proud husband, father, and friend. He is generous and makes it an emphasis to give back to his community. You will not find a greater person than Peter Riggi. He will be sorely missed."
"In my years of experience, I've learned one of the most important relationships in an educational facility is the one between between the Director of Facilities and the Business Manager, and being able to balance the infrastructure needs of the buildings with the district finances," said Schuylerville Business Manager Marian Chrisman. "Peter and I had that type of open relationship from day one. While he barely tolerated my 20 questions for each financial request, he always listened to my "want to hear my new plan?" endeavors. I will miss the valued friendship that we've developed, along with our special workplace camaraderie. I know that he will fully embrace his retirement years with family and adventure. I wish him the absolute best." 
In addition to the long-term building projects, Riggi's role has been extensive, from overseeing electrical and mechanical maintenance, to grounds upkeep and cleaning. But he says ending his career during COVID-19 has been a unique experience, with his team's responsibilities constantly evolving to adhere to state and local guidelines for school buildings during a pandemic.
"The things that we do everyday, now with disinfecting on top of our routine cleaning, has become a much higher profile than it's ever been," said Riggi. "But it's the work itself, the sense of accomplishment–that's why I do what I do."
Riggi's adult daughters both graduated from the district. While he will be leaving the Schuylerville campus at the end of the calendar year, he will remain local except for the winter months, which he plans to spend in Florida with his wife Jenifer. A car enthusiast, Riggi says one of his fondest memories is restoring his 1953 Buick with his father; next on their list is a 1960 Chevy Carryall. In addition to golfing, fishing and house projects, also on Riggi's retirement list is cooking and making wine, two hobbies which won't be new. His specialty is making Amarone, a red wine made from a grape that originates in the Abruzzi region of Italy.
"I've done this since I was a kid," said Riggi. "I have my own kitchen and wine-making spot in my basement. It's my happy room."
Riggi also plans to return to Italy, where generations of his family were born, for an extended stay visit. His last time there was during a Mediterranean cruise.
"That was just a tease," he said with a smile.
While Riggi has a lot on his retirement bucket list, he says he will look back on his career with fondness.
"Without getting too sappy, I enjoyed seeing the kids and knowing that although I wasn't instructing them, my department and I had an impact on their lives. From BOCES to now, I can't even calculate the number of kids that have been through the buildings that I have been involved with. It's a nice feeling."