The Post Star's Teen Excellence Awards identify high school students who demonstrate individual growth, leadership development, and serve as exceptional role models in their communities. These individuals also embody a significant level of innovation, leadership and achievement that goes beyond academics and athletics. Congratulations to Schuylerville High School senior, Caitlyn VanDeusen, who was selected by the Post Star as a 2023 recipient! Click here to see the full list of honorees.
About Caitlyn VanDeusen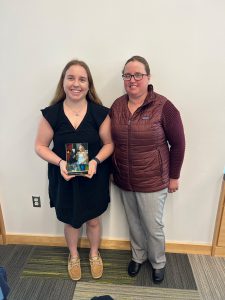 VanDeusen grew up working on Koval Brothers Dairy Farm in Saratoga with her mother since she was 8 years old, working with Holstein cows. She is one of the two New York State Holstein Association's Distinguished Junior Members, and is the secretary for the Schuylerville National Honor Society chapter, the Saratoga County 4H Dairy Club, and the Schuylerville Future Farmers of America chapter. VanDeusen has competed in FFA competitions at the local, state, and national levels, and shows her dairy cows throughout the summer at several shows. VanDeusen will be attending Delaware Valley University in Pennsylvania for agriculture.
Personal Inspiration
"My family and school staff have inspired me to reach for the stars and go after my dreams. Throughout my life, they have continued to support me in everything I do. If it wasn't for them, I wouldn't be the person I am today. Many of my teachers have positively impacted my life, but no one as much as Mr. Ross Marvin. Mr. Marvin was my English teacher in 11th and 12th grade and has helped me greatly with my writing, and always supported and encouraged me in everything I do. He has been such a positive influence on me and I am so grateful for that."
Biggest Accomplishment
"My biggest accomplishment is being named one of the two 2023 NYS Distinguished Junior Members. This is an award that I have been working towards since I was 9 years old."
Goals, Dreams & Aspirations
"After graduating high school, I want to go to college for agricultural education so I can become an agriculture teacher. This will allow me to continue advocating for agriculture and teach other about the industry that has given me so many opportunities."