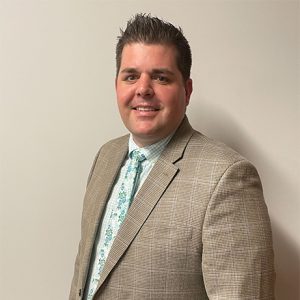 The Schuylerville Central School District Board of Education plans to appoint Jordan Tezanos as the district's new Director of Pupil Personnel Services during its regular meeting on Monday, May 23. Tezanos is currently the Schuylerville High School Assistant Principal, a role he's been in since the start of the 2020-21 school year. He will be appointed to his new position effective August 1.
"I am extremely humbled and grateful to embark on the next chapter of my professional career," said Tezanos. "I wouldn't have even considered applying if the opening wasn't in Schuylerville, a district that I instantly developed equal parts admiration for and a connection to. I'm excited to have the opportunity to continue working with students in a variety of capacities, with my reach and potential impact now spanning the entire district."
The Director of Pupil Personnel Services provides leadership and coordination for all aspects of the district's social work, psychological, speech, special education and Title I/II services. Mr. Tezanos will succeed Mr. Gregg Barthelmas, who was appointed as Schuylerville's next superintendent effective Oct. 1. 
"This position is about servicing grades K-12 and the wide variety of needs Schuylerville students have," said Barthelmas. "Jordan is very prepared for this role and has done an exceptional job building relationships with our students in his role as assistant principal. We are excited to have him serve our administrative team and district in this new capacity."
"One of my priorities as I begin this new position will be to remain a visible member of this school community," added Tezanos. "If there are students who have come to rely on seeing me in the halls, cafeterias and common areas, my intent is to continue having high levels of engagement with students, just now across all three buildings."
Prior to coming to Schuylerville, Tezanos worked at Hudson Falls Middle School since 2004, when he started his career as an English teacher. His building leadership experience began in 2011, first as Dean of Students for the middle school, then assistant principal, and eventually principal. During his tenure in the Hudson Falls Central School District, Tezanos worked to reduce absenteeism over a period of eight years, designed and facilitated the implementation of a maker space lab and facilitated the transition to computer based testing. He was also a building leader for Response to Intervention (RTI), the Dignity for All Students Act (DASA) and STAR Reading and Math. Tezanos earned a Bachelor of Science in Secondary Education from SUNY Plattsburgh, as well as a Master of Science in Education, Curriculum and Instruction from SUNY Plattsburgh. He has held a Certificate of Advanced Study (School Building Leader, Education Leadership) since 2013. Tezanos lives in the town of Wilton with his wife Karen and three children, Grayson (9), Sawyer (7) & Addison (5). 
"Jordan has made a very positive impact in a short period of time as the assistant principal in the high school, where he demonstrated a strong ability to build rapport with students," said Board of Education President, Michael Bodnar. "The Board is confident that he has the skill set, traits, and values to excel as our new Director of Pupil Personnel Services."
The district will post a vacancy announcement for a new high school assistant principal at the end of the week.