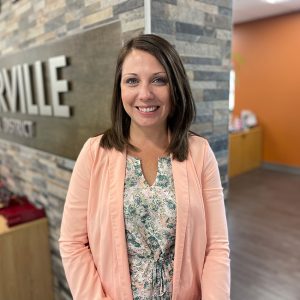 The Schuylerville Central School District Board of Education appointed Mrs. Stacy Marzullo as the new principal of Schuylerville Elementary School on Tuesday, June 20. Marzullo is currently the Director of Elementary Special Education, Pre K-5, for the Niskayuna Central School District. She will begin her new role in Schuylerville July 21.
"Stacy was an exceptional candidate, whose interview was dynamic," said Superintendent Gregg Barthelmas. "Her passion for education, coupled with her ability to work with students with various backgrounds will no doubt shine through from her very first day. In addition, Stacy is a compassionate and forward thinking educator who will be an excellent leader for our elementary school faculty and staff. Simply put, I am very proud to have Stacy join our team and school community in this next chapter for the district."
Marzullo has worked in the Niskayuna Central School District since 2022, during which she led the elementary special education department and served as the CPSE/CSE Chairperson for grades PreK-5. She was tasked with making data informed decisions for the department based on programming and related service projections, MTSS modifications, student programming, and Resource Room modifications. Prior to working in Niskayuna, Marzullo was the Administrative Coordinator (two and a half years) and the Curriculum & School Health Support Specialist (two years) for the Hamilton-Fulton-Montgomery County BOCES Special Education Division. Marzullo began her career as a classroom teacher at the Greater Amsterdam School District, where she spent seven years and also served as the fifth grade curriculum leader.
"I am beyond excited to accept the position of elementary building principal and join the outstanding Schuylerville Central School District," said Marzullo. "I am humbled and ready for the opportunity to work with the district's exceptional education team to foster continued progress and student success. Throughout the interview process, I felt the committee members and I really connected, and it was evident that our values and passion for education aligned. I am confident that my skill set and experiences will add to the positive culture and community of the district. I can't wait to get started."
Marzullo earned a Bachelor of Science in Childhood Education 1-6 from the State University of New York College at Oneonta, as well as a Master of Science in Childhood Education 1-6, Literacy from the University at Albany. She also holds Certificates of Advanced Study as a School District Leader (SDL) and School Building Leader (SBL). Marzullo lives in Saratoga Springs with her husband and three children (identical twin sons, age 6, and a daughter, age 4.)  
"On behalf of the Board of Education, I would like to congratulate Stacy Marzullo on her appointment as our new elementary school principal," said Board of Education President, Michael Bodnar. "Stacy's valuable experience as a classroom teacher at Amsterdam, coupled with her experience as a director of elementary special education at Niskayuna, makes her an excellent choice for her new role. She presented a clear plan and vision for how she would listen to, collaborate with, and lead the outstanding teachers and staff members in our elementary school.  We are very excited for her arrival in Schuylerville and look forward to working with her for years to come."