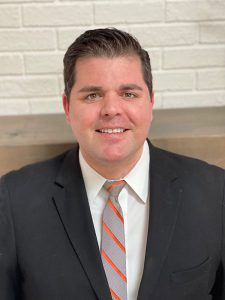 The Schuylerville Central School District Board of Education appointed Jordan Tezanos as the new assistant principal of Schuylerville High School during its regular meeting on Monday, April 20. Tezanos is currently the middle school principal for the Hudson Falls Central School District. He will begin his new role in Schuylerville effective July 1 and work alongside High School Principal James Ducharme. Interim Assistant Principal Todd Gonyeau will finish out the school year through June 30.
"I am elated and eager to begin my role as assistant principal," said Tezanos. "Throughout my 17 years in education, working as an assistant principal for eight years holds some of my fondest memories. I was drawn to the Schuylerville Central School District because of the incredible reputation the district has in regard to students, faculty, staff, administration and the tight knit community. I feel so fortunate to have been selected by the interview committees and look forward to hitting the ground running."
Tezanos has worked at Hudson Falls Middle School since 2004, when he started his career as an English teacher. His building leadership experience began in 2011, first as dean of students for the middle school and then as the assistant principal, a position he held until June 2019.  During his tenure in the Hudson Falls Central School District, Tezanos worked to reduce absenteeism over a period of eight years, designed and facilitated the implementation of a maker space lab and facilitated the transition to computer based testing. He was also a building leader for Response to Intervention (RTI), the Dignity for All Students Act (DASA) and STAR Reading and Math.
"Mr. Tezanos will bring a wealth of knowledge to Schuylerville," said Principal James Ducharme. "His years of experience spent as a teacher, grades 6-12 department chair and administrator will be valuable to our high school team. I look forward to a great partnership with the goal of continued success for our students and staff."
Tezanos earned a Bachelor of Science in Secondary Education from SUNY Plattsburgh, as well as a Master of Science in Education, Curriculum and Instruction from SUNY Plattsburgh. He has held a Certificate of Advanced Study (School Building Leader, Education Leadership) since 2013.
"The Schuylerville School Board of Education is very pleased to have the opportunity to hire Jordan Tezanos as our assistant high school principal," said Frank Nesbitt, Board of Education President. "Mr. Tezanos has dedicated himself to creating a safe and enriching environment for all students at Hudson Falls and we can't wait for him to bring that approach to his new position at Schuylerville."
Tezanos lives in the town of Wilton with his wife and three children, Grayson (second grade), Sawyer (kindergarten) and Addison (age three).