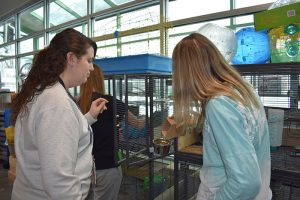 Schuylerville High School's Ag Science teacher, Mary Foote, has been selected to attend the 2020 National Agriscience Teacher Ambassador Academy, a prestigious honor that only 22 teachers in the nation were selected for this year. The academy serves to train agriculture teachers on how to enhance the science that is already present in agriculture, as well as develop students as problem solvers and thinkers through the inquiry-based teaching method. This year's academy will be held in July, in Tulsa, Oklahoma. 
"I am beyond honored to have the opportunity to be named an Agriscience Ambassador and represent the National Association of Agricultural Educators," said Foote. "However, I am most excited to bring back the knowledge and skills from the academy back to my classroom and students at Schuylerville."
Goals for the National Agriscience Teacher Ambassador Academy include:
Provide teachers with educational resources and inquiry-based teaching skills to implement science-based activities in the classroom for environmental science, food science, sustainability and ag biological sciences.

Share lesson plans, laboratory exercises and teaching strategies in order to improve the resources available to teaching agriscience.

Train and influence the next generation and future employees who will advance agricultural sciences to the next level.
In the coming year, Foote will also travel to the National Association of Agricultural Educators Convention and National FFA Convention, where she will lead workshops for other agriculture teachers.