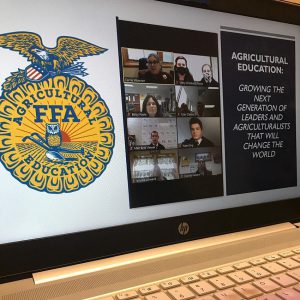 260 students are enrolled in at least one agricultural education course at Schuylerville High School, a number that accounts for more than half of the high school's population. Schuylerville chapter FFA officers recently met with NYS Assemblywoman Carrie Woerner to discuss the importance of ag education. The students have all been active in FFA since middle school. 
"To be able to show them what we are accomplishing and what we are doing with our new ag tech wing was great," said FFA President Nate King.
Ag education courses are taught in the Ag Plant and Ag Tech rooms; two of the classrooms in the new wing of the high school that was part of the most recent capital project. The spaces allow for hands-on activities, where students can apply what they are learning in a real-world environment.
During students' conversation with Assemblywoman Woerner, she stressed the importance of young people exploring technology, calling it essential for the future of agriculture, especially in New York State.
"One of the biggest challenges is getting people back into production agriculture, because you need people coming back to the farm and producing that food," said FFA Chapter Reporter Caitlyn VanDeusen. "Right now, the average age of farmers is 58."
It is estimated that by the year 2050, the world population will be between nine and ten billion people, presenting a need to produce more food than ever before. 
"We are heading in the right direction, but our next generation does have a lot of weight on its shoulders," said FFA Student Advisor Brooke Schwerd. "We need to be familiar with the technology. Assemblyman Woerner talked about how she would like to see more agricultural technology in college programs. I think that's a great idea."
NYS ag education runs out of Cornell University and is a line item in the NYS budget each year. Schools, including Schuylerville, receive a grant to help support the classroom programs. 
"Who better to tell the story than the kids who are examples of the benefits of ag education," added Agricultural Science Teacher and Schuylerville FFA Advisor, Mary Foote. "They did an outstanding job and I couldn't be more proud."