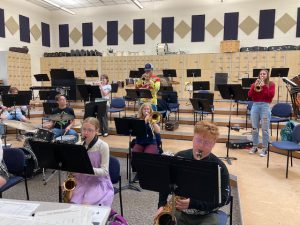 Schuylerville CSD Class of 2011 graduate Matt Niedbalski volunteered his time to work with the Jazz Ensemble and drummer, as they make their final preparations for the upcoming spring concert. The performance will be held at the Strand Theatre in Hudson Falls on June 8 at 7:00 p.m. under the direction of Mr. Michael Craner. Opening the concert that evening will be the Schuylerville Middle School Jazz Ensemble, under the direction of Mrs. Meghan Califano.
Niedbalski is a graduate of William-Patterson University with a degree in jazz performance. He is a professional drummer, performing throughout the northeast as both a sideman and a band leader. Niedbalski is also the drum specialist at Parkway Music in Clifton Park.  He and his wife are Schuylerville district residents.
The music department extends its thanks to Mr. Niedbalski for the time and expertise he shared with students!