It was a summer of new opportunities for middle school students who participated in STEM enrichment programs in robotics, woodworking, and art led by Schuylerville technology teacher and NYS Master Teacher, Mark Belden, and Schuylerville art teacher, Matt Roberts.
The enrichment programs were free of charge for students, using funds from the federal Elementary and Secondary School Emergency Relief Fund (ESSER) grant, and open to students in grades 6-8.
Art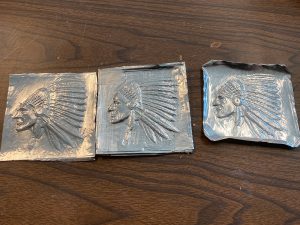 The theme of the art enrichment program was Learning About Our Area's Past Through Art. Spanning two weeks, students explored history through the mediums of watercolor painting and pottery. Teacher Mr. Roberts combined social studies lessons with guided artwork projects that included:
Creating Native American clay bowls using local clay
Making rain sticks
Writing a story and transferring it to artwork on a buffalo hide
Creating an open air watercolor painting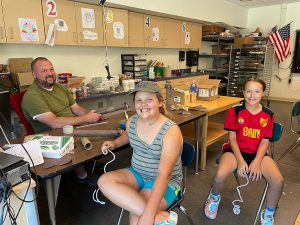 "This was an opportunity to take an in-depth look at local culture and history and how it relates to art," said Mr. Roberts. "The enrichment program allowed us time to go beyond our typical studies in the classroom in a very fun and unique way."
Robotics & Woodworking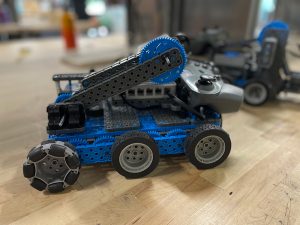 Within the robotics portion of the enrichment program, students built, tested, and coded VEX IQ Robots. An entire day of the five-week session was devoted to programming, laying the foundation for students to spend the rest of the week building competition robots.
During the woodworking week, students were introduced to a series of power tools, including a chop saw, bandsaw, drill press, and sander, with the goal of creating a wooden bench.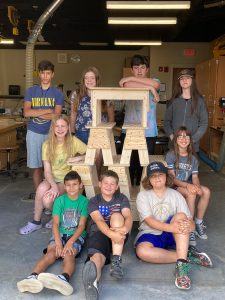 "Using the power tools to and getting to build something I can feel proud of was the best part of this program," said seventh grade student Ella Marchetti.
Technology teacher Mark Belden says most of the students had never used a power tool prior to the summer enrichment program, and were able to expand their hands-on skills.
"I'm going to have kids working in the shop this school year who have skills and leadership that no one else has yet as a result of this summer program," said Belden. "It's awesome to see the projects come to life and have the kids be so excited. The quality of work they turned out for kids who never touched a power tool or done anything like this, is awesome."