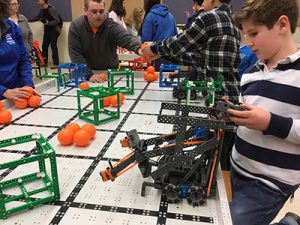 More than 30 Schuylerville middle school students participated in an annual robotics competition with Granville's middle school team. Teams of two took part in the VEX IQ Challenge Squared Away. 
About the game
The VEX IQ Challenge Squared Away is played on a 4'x8' rectangular field. Two robots compete in 60 second long teamwork matches, working collaboratively to score points. Teams also compete in the Robot Skills Challenge where one robot takes the field to score as many points as possible, using 3″ diameter balls 7″ diameter cubes. The matches consist of driving skills (entirely driver controlled) and programming skills (limited human interaction.) The object of the game is to score as many points as possible with your alliance partner in one of two ways: scoring balls in or on cubes, and by moving cubes to their respective scoring zones.
Schuylerville students were accompanied by Robotics Club adviser Mark Belden, with more than two dozen parents in attendance as spectators. Click here to see more photos of the event on the district's Facebook page.
Participants
6th Grade
Anna Schwerd

Seth Frydel

William Farmer

Bella Buetner

Mia Ochal
7th Grade
Grace Lail

Olivia Crowley
8th Grade
Carter DeBusk

Aiden Arsenault

Henry DeYoung

Warren Cowles