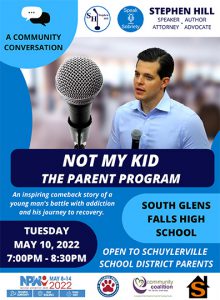 The Community Coalition for Family Wellness will be sponsoring a special parent program at South Glens Falls High School on Tuesday, May 10, 7:00-8:30 p.m. Keynote speaker Stephen Hill is a renowned national speaker on substance use prevention and mental health awareness, with a truly inspiring comeback story.
Stephen is the founder of Speak Sobriety, a young person in recovery, bestselling author, recovery coach, and a fierce attorney advocating for treatment over incarceration. He has presented in front of thousands of people in more than 300 schools, drug free communities coalitions, alliances, and organizations across the country, sharing his cautionary tale of addiction to recovery and beyond.
But before Stephen had these accolades attached to his name, his reputation was filled with negative stigmas—junky, dropout, felon, failure. A once promising student-athlete nearly lost his life to a severe substance use disorder.
Stephen's story focuses on stigma and struggle to resilience and recovery. His goal is to give parents an educational program to help prevent and intervene on substance misuse, and equip them with the skills to have open discussions about his story, which he will present to Schuylerville students in grades 9-12 on May 12.
The May 10 parent program is free and open to all Schuylerville parents. We encourage attendance and look forward to seeing you there!
James Ducharme
Schuylerville High School