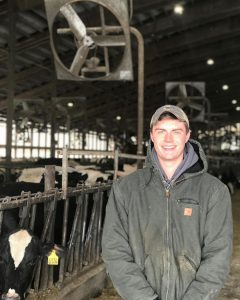 Congratulations to Schuylerville High School senior Adam King, who was named New York State Star Farmer by the NYS FFA! King had to submit an extensive application discussing his experiences and role on the farm, challenges, academic achievements, FFA involvement and more. Star Farmer is the highest award available to FFA members who apply for their Empire FFA Degree, the highest degree New York can bestow on its FFA members.
King will go on to represent New York at the Eastern States Exposition in September 2020, where he will be interviewed for the honor of being named the Eastern Region Star Farmer. During this interview, he will talk about his involvement on his family's farm, Kings Ransom Farm, as well as the agricultural industry and his future plans. 
Adam's father, Jeff King, was also named New York State Star Farmer during the early '90s and was Schuylerville's last recipient of this honor.