From May 4-12, the Schuylerville Central School District will host a virtual concert and art show, featuring faculty and staff members' gifts of music and art.
May 4
Elementary and Middle School Band teacher, Kaitlyn Koch, performs,  "Look For the Silver Lining" by Jerome Kern and Buddy DeSylva. Click here to watch. 
May 5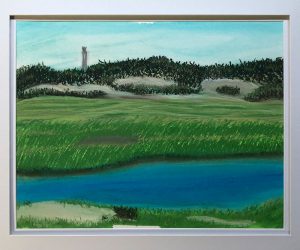 The image was inspired by a photo Mr. Robinson took while walking through the dunes on the last day of his 2010 vacation. He took this vacation for 10 years as a way of saying goodbye to summer and refresh for September. Mr. Robinson writes, "Interestingly, this was to be my last summer on the Cape because of some life changes. In March of 2010, because of the recession, my position as a teacher at Rensselaer School District had been eliminated. The week after I took the photo that inspired this landscape was the beginning of my first year at Schuylerville. The "Cape Cod Dunes" hangs on my wall and I look at it everyday, constantly reminded of a perfect end to the summer and a great beginning at Schuylerville."
May 6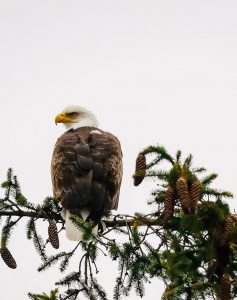 "When a storm is coming, all other birds seek shelter. The eagle alone avoids the storm by flying above it. So, in the storms of life may your heart be like an eagle's and soar above. " -Anonymous
This photograph was taken by third grade teacher, Ruth Ann Thivierge, along Route 4N on March 28, 2020. Mrs. Thivierge writes, "As I was driving along this road, I spotted a bonded pair at the top of a tree. I stopped and observed for a few minutes and took some photos. In this photo, the eagle is looking back at me- almost to say, "It's going to be all right. We can get through this challenging time. Together, we're stronger." I felt a sense of renewal after seeing this majestic animal and know that we will get through this time of uncertainty."
May 7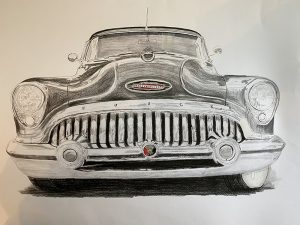 '53 Buick Special by middle school art teacher, Matthew Roberts is drawn in pencil, ink and conte on canvas. Mr. Roberts writes, "The 1953 Buick Special is a stunning vehicle, back when designing and building cars was a work of art. The 1953 Buick has many beautiful attributes. I drew this for a friend of mine, Mr. Peter Riggi; it is the front of his 1953 Buick Special that he and his father restored together. As I also have fond memories of working on vehicles with my father, I drew this for Mr. Riggi as an honor and remembrance of the hard work it takes, the good times you have, and the wonderful memories you create when building something with your father."
May 8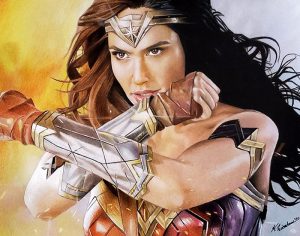 Mr. Winslow writes, "This piece is inspired by the wonderful role model that Gal Gadot portrays in the Wonder Woman movies. She is a strong female character for young girls to follow; I think there is a need for more of that in films today. I am also a huge comic book collector and have been drawing comic book characters since I was 10 years old."
May 11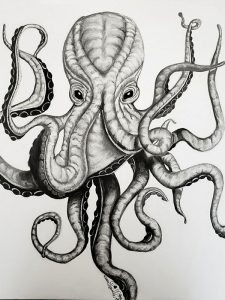 May 11 features a drawing by grades 6-12 school psychologist, Karen Maciariello. She writes, "I always loved drawing and art ever since I was a kid. I had a deep passion for the arts while in high school and took a two-year Art International Baccalaureate course. My love of art and drawing recently resurfaced from seeing my nine-year old son enjoy drawing. He has been taking private art lessons with our very own Kirt Winslow for over a year. Watching his talent grow has reawakened my desire to get back into drawing. This piece was done in the fall; the first in over 20 years."
May 12
Middle and High School Choral Director, Jodi Ogburn, performs "Ode to Joy" by Beethoven on the organ. She writes, "For the virtual concert I was trying to find a song to play that would make people happy. I was thinking that during this time so many people need some joy. The song "Ode to Joy" by Beethoven seemed appropriate for the virtual concert. I decided to play it on the organ because I thought it would be fun to see the workings of a different instrument!" Click here to watch.