The framework for the 2020-2021 Schuylerville Central School District's budget is more solidified after receiving state aid calculations from New York state in late January. Business Manager Marian Chrisman presented a budget recap during the February 24 public Board of Education meeting, as well as an updated proposed tax levy impact. 
The district's projected 2020-21 maximum allowable tax levy under the NYS property tax cap is 6.495%. However, in January, Chrisman explained the district does not plan to propose the full allowable amount, rather a levy of 2.9%. A month later, state aid calculations provided the district with a clearer picture of the budget, resulting in a new, tentative proposal of 2.6%. The proposal would result in an estimated tax bill increase of $104 on a home assessed at $200,000. 
The 2.6% tentative proposal stems from a combination of the capital project debt service coming online, in addition to increased costs associated with retirement and health insurance benefits. So far, $15 million of the voter-approved $24.7 million has been borrowed for the project; the district anticipates the state's building aid will offset future debt service payments for the project.
"The 2.6% proposal is the financially responsible decision for the district to make," said Chrisman. "It will put us in a good financial position for the future, with provisions set up to assist in stabilizing future tax levy increases."
The proposed tax levy would carry a 3.40% spending increase for the 2020-21 school year. Included in the proposed budget will be an additional school psychologist, allowing each school building to be staffed with one. Currently, the middle and high school share a school psychologist. The recommendation came from a mental health audit conducted this winter, with a targeted goal of improving the district's mental health services for students. The 2020-2021 budget proposal will also include the addition of a library aide, resulting in the staffing of all three school libraries. The goal is to allow the libraries to be open all day and provide structured, instructional opportunities for students in media and literacy.
Below is a five-year comparison in the district's spending plans with corresponding tax increases.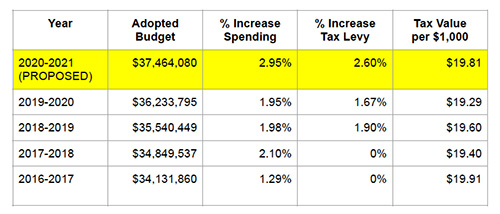 The Board of Education will adopt the 2020-2021 budget during its March 16 meeting at 7:00pm in the high school library. Results from the district's mental health audit will also be presented.