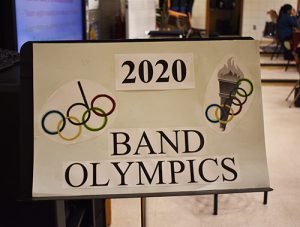 Much like the Olympic Games where athletes participate in individual and team events, Schuylerville Middle School's seventh and eighth grade musicians participated in a 'Band Olympics,' which they prepared for since September.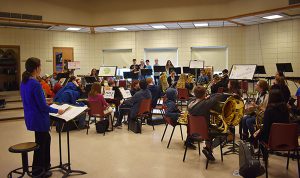 After their winter concert in December, the students' band teacher, Kaitlyn Koch, gave them a boot camp packet to take home over the holiday break. Inside were activities to practice and strengthen ensemble skills they had been learning since the beginning of the school year: instrumental techniques, scales, articulation and dynamics. When the students returned to class in January, they started with an opening ceremony and the Band Olympics officially commenced.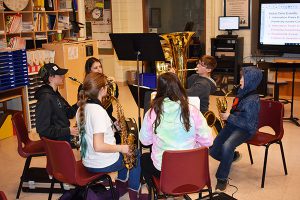 42 students formed six teams with a unique name to represent their respective instrumental groupings:
The Floboes (Flutes and Oboes)
Coo Coo Clarinets (Clarinets)
The Golden Baguettes (Trombones and Baritones)
The Tooters (Trumpets)
The Dragon Drummers (Percussion)
Saved by the Bell (Saxophones, Tuba, and French Horn)
"By doing this, and breaking up the usual routine, they had to work together and get to know some of their classmates across grade levels different instrument groups," said Koch. "They really developed a lot of pride for their teams."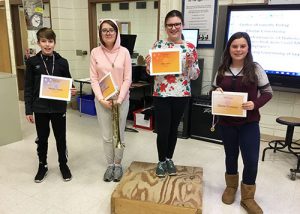 During the Band Olympics, students participated in different Olympic musical team and individual events, including rhythmic and melodic sight reading and performing perfectly tuned concert F pitches. Students earned medals and recognition for their individual and group performances at the end of the four-week Olympics.
Gold 
The Floboes
Coo Coo Clarinets 
Silver
The Golden Baguettes 
The Tooters 
Bronze
The Dragon Drummers 
Saved by the Bell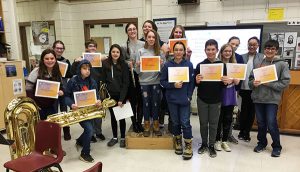 Koch says while improving her students' skill levels was a goal, musical independence was as well; students' confidence that when given a piece of music or musical instruction, they can work to perform on their own with little guidance from a teacher.
"I remind them at the start that everyone has a blank slate," said Koch. "What comes out of it is entirely reflective of the effort you put in."