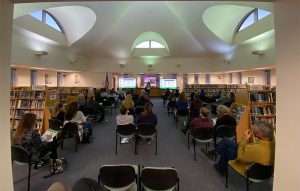 A Financial Aid/SUNY Adirondack Instant Admission Night was held in October, a program hosted by Schuylerville High School Student Services in conjunction with SUNY Adirondack. More than 50 people attended the event, with 20 students participating in the instant admission portion of the program. SUNY Adirondack's Director of College Access & Student Success, Jenny Postlethwaite, was present to assist students.
"The college application process is generally filled with a variety of emotions for seniors and their families," said School Counselor, Sarah Rust. "This program allows seniors a chance to secure a great educational opportunity for next year and is a huge benefit for our students."
Families were also able to begin their FAFSA application with the guidance of Michele Sprague, Assistant Director of Financial Aid from SUNY Adirondack.